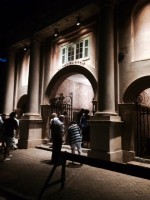 The clouds parted for a couple of hours last Friday night. Literally. Rain before the concert. Rain after the concert. During the Spoleto Festival event, however, it was completely dry and beautiful. The allure of the College of Charleston's Cistern Yard is hard to eclipse – Spanish moss, the iconic pillars at Randolph Hall and the idilic Southern charm of yesteryear hanging in the air. What could possibly make it better? I'll tell you – beautiful music.
Given the backdrop and Spoleto's reputation for bringing in a stellar cast of musicians, I jumped at the chance to see The Kruger Brothers during the last weekend of Spoleto.  The Kruger Brothers are two brothers – Jens and Uwe Kruger –  with the addition of Joel Landsberg, a native of New York. Their banjo, bass and guitar was the perfect accompaniment to the mood in the air – a mix of beauty, expectancy and good ole' Southern humidity.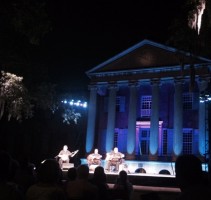 Think of their music as European Bluegrass – it was true to the roots of bluegrass (you can't have a banjo without giving a nod to bluegrass) but it also had an air of sophistication. Their love of music was evident from the first note and their stories of writing amongst the green hills of Switzerland as kids were inspiring. For most of the night, they entertained us with their own songs but they did work in a moving rendition of Sting's Fields of Gold.
They were talented and had an obvious mastery of their instruments, but what I was most impressed with was their love of what they do. Every note and word told a story of their journey and on this particular night, I was grateful to be a part of it.
words + images: Christi Hardin
Posted on June 10, 2014 by admin.
Categories: Uncategorized
Tags: Spoleto, Spoleto Festival