The Short List of Finalists for the 1858 Prize for Contemporary Southern Art has been released by the Gibbes Museum of Art along with Society 1858! This award is given annually to an artist whose work displays the highest level of excellence within their medium, while also contributing a fresh understanding of art in the South, and features a cash prize of $10,000. Over 250 artists from Alabama, Arkansas, Florida, Georgia, Louisiana, Mississippi, North Carolina, South Carolina, Tennessee, and Virginia submitted applications to be considered for this awesome prize.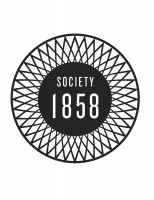 Though it was a tough decision, a distinguished panel of judges ultimately selected the seven finalists for the prize. "We are thrilled to have received so many qualified applicants to the 1858 Prize. Narrowing the list to seven artists was a tough task, but we feel this group represents the great talent and creativity of the contemporary southern art scene," said Gibbes Museum Curator of Exhibitions Pam Wall.
And the finalists are…
Jim Arendt
Based in Conway, South Carolina, Jim Arendt creates narrative paintings, sculpture, and installations that investigate how individual lives are affected by transitions in economic structures. Made from cut denim, Arendt's figurative work draws upon his rural upbringing and concepts of work, labor, and connections to the land. Arendt received his BFA from Kendall College of Art & Design and his MFA with a concentration in painting from the University of South Carolina. jimarendt.com
Sonya Clark
Sonya Clark is a fiber and mixed media artist working in Richmond, Virginia, where she chairs the Department of Craft and Material Studies at Virginia Commonwealth University. She uses objects such as cloth, hair, and combs to give voice to the complexity of American identity and history. Clark's work has been exhibited in over 250 museums and galleries in Europe, Africa, Asia, South America, Australia, and throughout the United States. sonyaclark.com
André Leon Gray
A native of Raleigh, North Carolina, André Leon Gray is a self-trained artist who works in a variety of media to examine the impact of history and memory on present day power structures and social hierarchies. Gray's mixed media assemblages, sculptures, and installations combine recycled and reclaimed objects, materials, and imagery. He transforms mundane objects into powerful social commentary with the intent of creating dialogue among his audience. andreleongray.com
Jackson Martin
Jackson Martin's artistic practice entails an interdisciplinary approach to sculpture, installation, and photography. He utilizes a wide variety of materials and processes, ranging from sewing nontraditional fabrics to steam-bending hardwoods to planting trees in dumpsters. A native of Tennessee, Martin currently resides in Asheville, North Carolina where he teaches at the University of North Carolina. jacksonmartin.com
Jason Mitcham
Artist Jason Mitcham combines painting and stop-motion animation to investigate suburbia, modern ruins, and temporality within the landscape. His animations are created by digitally recording thousands of slight alterations on paintings; approximately ten miniscule changes are made for every second of footage. Mitcham was born in Greensboro, North Carolina and currently resides in New York. Jasonmitcham.com
Damian Stamer
Painter Damian Stamer depicts barns, abandoned buildings, and other vernacular structures of the rural south. His heavily layered canvases blur the line between abstraction and representation as they seek to express the solemn beauty of the old and overlooked. A native of Durham, North Carolina, Stamer earned a BFA from Arizona State University and an MFA from the University of North Carolina at Chapel Hill. Damianstamer.com
Stacy Lynn Waddell
Stacy Lynn Waddell creates work that explores American history, culture, and the ways individual consciousness is formed through generations. She combines watercolor, gold leaf, and collage with heat-based techniques that burn, brand, and singe works on paper. Waddell has exhibited at museums throughout the country, including the Studio Museum in Harlem, the Pennsylvania Academy of the Fine Arts, and the Gibbes Museum of Art, in the solo exhibition The Evidence of Things Unseen. Stacylynnwaddell.com
Posted on July 2, 2014 by admin.
Categories: Uncategorized, Visual Art
Tags: 1858 Prize For Contemporary Southern Art, Charleston Art, Gibbes Museum Of Art, Society 1858