The Village Repertory Co. (Woolfe Street Playhouse) continuously put on top-notch theatre in their new location on Woolfe Street and if you haven't seen anything there yet, Happy in the Poor House is a fantastic example of what you'll get; hilarious, well-performed, and a great way to spend an evening.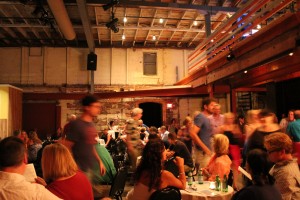 It started with an offstage fight, and ended with an offstage love-making session, and everything in between was just as explosive. Written by Derek Ahonen of New York and directed by Keely Enright (Producing Artistic Director), Happy in the Poor House, set in the Coney Island apartment of the Pizzarullis', casts a light on a dysfunctional family in the midst of the long awaited return of Petie "the Pit" (Robbie Thomas), an Afghanistan or Pakistan ("Tomato, tomato" as Joey would say) Veteran who was recently wounded in battle. The first act of the play introduces Paulie "the Pug" (Patrick Arnheim,) a wannabe fighter by day/bar bouncer by night and his sexually frustrated wife Mary, (Sierra Garland, Tony and Tina's Wedding, Trip to Bountiful).
The tension rises when Paulie accuses Mary of loving Petie (the soon to return ex-husband and former best-friend of Paulie, EEK!) Garland and Arnheim have a ying/yang, Arnheim is bursting with energy (perhaps a little too much energy), punching holes in the wall and pacing the stage for the duration of the play, but Garland grounds him and the play in a stellar performance. Also in the first act we are introduced to Mary's brother, Joey, (Bronson Taylor, Spamalot, Russian Transport, A Steady Rain) a self proclaimed ladies/mail man whose recent rendezvous with supposed 18 year old on his mail route has him spouting off a brilliantly performed monologue. Joey provides all of the sexual innuendos and crass jokes you could ever want and Taylor delivers them with a punch and a hip thrust.
As the rest of the family arrive for the party we are introduced to more love triangles including a lesbian couple, Penny (Haydn Haring, The Birds, The Other Place) and Olga (Brenna McNamara, Women of Lockerbie, Rosencrantz and Guildenstern are Dead) who are on the run from the police for stealing. When two incredibly fake tanned thugs, Sonny and Sally (Dave Reinwald and Xan Rogers) come in to defend Flossie (Sarah Callahan, Sleeping Beauty, Chicago) who…surprise! was the supposed 18 year old Joey had a raunchy rendezvous with, proverbial shit hits the fan.
The second act brings Petie home with his black gay nurse, Stevie, (Andre Hinds). Stevie had the best lines of the whole play delivered in perfect sass. The climax of the play culminates in a fight between Petie (in a wheel chair) and Pauly for the love of Mary that is broken up by the charming performance of Jake Bantel as Larry "the Lab".
If raunchy, crass humor is your thing, this play will delight you and having you speaking with a New York accent for the rest of the night.
buy temovate online https://blackmenheal.org/wp-content/languages/new/us/temovate.html no prescription

It is a fast paced explosive comedy that had the audience hootin' and hollerin' through both acts. You have 2 more chances to see it! If you can't make it, make sure you check out Woolfe Street's next play, a comedy written by the brilliant Nicky Silver The Lyons.
Posted on August 18, 2014 by admin.
Categories: Performing Arts, Review
Tags: Derek Ahonen, Happy In The Poor House, Village Repertory Co., Woolfe Street Playhouse