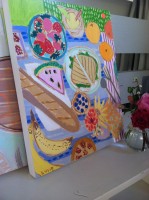 It was the happiest of hours last night at the Lulie Wallace table, and we are so glad we pulled up a chair! Presented by the talented artist herself, the debut of Wallace's newest Tablescape series at Mixson Bath & Racquet Club could not have been more charming.
The show, entitled "Spread" featured a collection of whimsical tablescapes and fabrics we dare you not to dream about. When it comes to detail and color, the expert is in and she is creating a wonderful world where no meal is complete without a bouquet of Lulie Wallace signature blooms.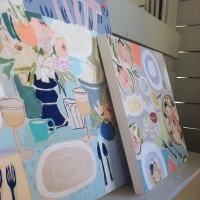 Lively patterns and pops of neon brightened the walls of five chic cabanas where local creatives and friends of the artist fully enjoyed the fruits of her labor.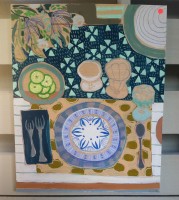 Most of Wallace's canvases had already found a new home before we even arrived. Yes, that includes the favorite of the night which effortlessly explored how many different ways you can paint the perfect strawberry.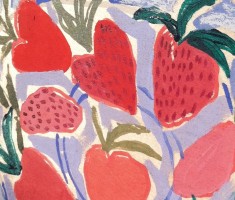 The consummate hostess, with a personality as lovely as her paintings, Wallace has definitely been working hard. When we asked her about the series, she playfully suggested she could use a nap.  Luckily, we saw a few pillows with her name on them.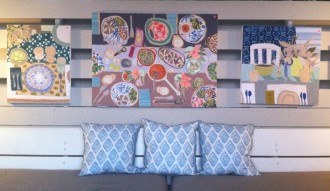 words + images: Lauren Park
Posted on August 22, 2014 by admin.
Categories: Review, Visual Art
Tags: Art Mag, Charleston Art, Lulie Wallace, Lulie Wallace Art, Mixson Bath And Racquet Club, Original Art, Paintings, Tablescapes