X marks the spot.
BB&T Charleston Wine + Food Festival is celebrating 10 years. If you remember, X is the Roman numeral for 10. It also references the spot where buried treasure/pirates booty/gold/etc. is concealed.
Well, it totally marks the spot for culinary gold at the #CHSWFF Party @ The Power House this past Wednesday. If you're into hashtags and all that business, consider #CHSWFF your bestie for all things Wine + Food related.
The lawn of the majestic and imposing POWER HO– — USE was fenced off and draped in those Edison bulb string lights that I adore. Center to the event was a lounge area, with a 'fun in the best/cheesiest way' band set up right in front of the Power House steps. Bars flanked the stage, and the food trucks were positioned like giant parenthesis or a wild west wagon circle. All in all, it was a pretty magical, and very intelligently laid out.
We enjoyed incredible food from:
Roadside Seafood + Mike Lata, The Ordinary and FIG
AutoBanh + Kevin Johnson, The Grocery
Cory's Grilled Cheese + Emily Hahn, Warehouse
Roti Rolls + Jeremiah Bacon, The Macintosh
Carolina Creole + Patrick Owens, Langdon's and Opal
There were several food trucks + chef power couples we couldn't make it to, or opted to skip the line for food in favor of the line for drinks. Boris Van Dyke's team from IceBox were serving up cocktails, local beer from Holy City Brewing, and wine. The Moscow Mule and the Gin concoction were well received. Dudes enjoyed the Manhattan, which was pretty much straight bourbon, and a bit overpowering for the ladies in my company. Edmund's Oast was representing, beside presenters Limehouse Produce and their trunk full of watermelons. Visual hilarity.
So after a quick visit to charlestonwineandfood.com this morning, I am sad to report that if you hoped to get tickets for anything Mike Lata or Sean Brock-related, that ship has sailed. There are a disturbing number of events already sold out, and I say disturbing because they're all the ones I was drooling for. Locals, I know we're all notoriously non-committal, but if you want a ticket to anything but the Culinary Village, you probably should not wait. Don't say that you weren't warned.
words: Stacy Huggins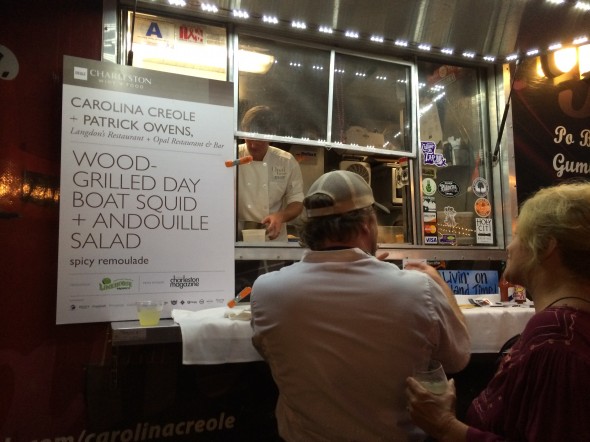 Posted on August 31, 2014 by admin.
Categories: Culinary, Review
Tags: Bb&t Charleston Wine + Food Festival, Charleston Wine + Food Festival, Chswff, Chswfx, Party @ The Power House