We all have memories, but how are our memories colored and altered by passing time? Do we cast a rosy glow over our histories? Or do we distort the truth and create something unsightly? Artists Katey Crews and Kate Nartker "tease out" these questions, and many more, in their joint art exhibition "Tease It Out," which is currently on display at Redux Studios.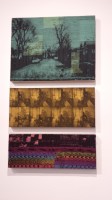 The duo's exhibit features meticulously crafted tapestries which were created with the help of a Jacquard loom.  The images on each tapestry range from instantly-recognizable figures to vaguely-familiar pictures of middle-class American life.
buy clomid generic gaetzpharmacy.com/clomid.html no prescription

Crews' contribution to the exhibit includes images drawn straight from contemporary America's collective consciousness, and her most striking tapestries depict former presidents like Abraham Lincoln and Richard Nixon.  In Crews' hands, these images, however familiar they may be to many Americans,
are not as pristine as memory dictates. Crews unravels, pulls at, and rips these famous presidential figures so that they become something altogether different from what we know.
Nartker's pieces pull from more personal territory: home videos.
buy propecia generic gaetzpharmacy.com/propecia.html no prescription

 Many of her works stem from film clips shot by her father. Nartker's representations of a smiling child, a neighborhood dotted with homes and cars, and a young girl's shoes could be the childhood memories of virtually any American.  What's most impressive about this exhibition is the artists' ability to seamlessly weave together two facets of the American psyche: personal memory and political memory.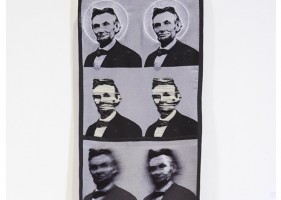 For a new take on old memories, swing by Redux Studios to see the exhibit for yourself. "Tease It Out" will be on display until September 27th.
Posted on August 11, 2014 by admin.
Categories: Visual Art
Tags: Art, Artists Talk, Exhibition, Kate Nartker And Katey Crews, Looms, Memory, Opening, Redux Studios, Tease It Out, Visual Art