Summer Harvest at The Charleston Music Hall has finally arrived and with three nights of local talent ripe for the picking, we have decided to set up camp.  Word Perfect celebrates the release of local poet Marcus Amaker and jazz musician, Quentin Baxter's newest creative collaboration, A New Foundation. Dream team, right?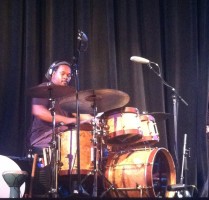 The show had all the hallmarks of poetic bliss. We laughed, we cried, we snapped. In the words of Amaker, the 928 seats of The Charleston Music Hall "felt like [his] living room." And, boy was he a great host!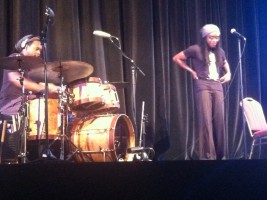 Each Amaker + Baxter set featured a sneak peek of the new studio album, a highly anticipated project that expertly blends the best moments of percussion and lyric. While the night was dedicated to this dynamic duo, they seemed right at home sharing the stage with the inspired poetic community of the Lowcountry.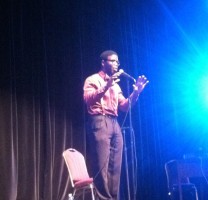 The evening introduced an exceptional line up of wordsters who have perfected the rhythm of their craft. Amongst the talented many were duo Nick Jenkins and Sara Peck, James Harris, Ellen Hyatt, Nova, Derrek Berry, Paul Mount, Matthew Foley, and "Mr. Enlightenment" himself, Joey Tucker.

Cleverly woven into a sea of similes, metaphors and haikus, a diverse range of themes and styles surfaced throughout the night. String bulb lighting illuminated spoken-word portraits of family, love, loss, humor and human rights.
If you missed last night's kick-off, the good news is Summer Harvest has two more album releases to toast, featuring Michael Flynn (Friday, August 15) and The Tarlatans (Saturday, August 16.) The bad news is, there is no guarantee you will get to group chant; "1-2-3-Poetry!" Yep, that happened.
Summer Harvest: Doors Open at 7 | All Shows Start: 8PM
Michael Flynn's Album Release – $10 ADV / $15 DOS
The Tarlatan's Album Release – $10 ADV / $15 DOS 
Music Hall Box Office: 37 John Street (843-853-2252)
words + images: Lauren Park
Posted on August 15, 2014 by admin.
Categories: Literary Arts, Review
Tags: Charleston Music Hall, Derrek Berry, Ellen Hyatt, James Harris, Joey Tucker, Marcus Amaker, Matthew Foley, Nick Jenkins, Nova, Paul Mount, Poetry, Quentin Baxter, Sara Peck, Summer Harvest