MOJA is a Swahili word meaning "One." And there is no better picture of unity than Thursday's opening day street parade. It seems the 2014 MOJA Arts Festival has arrived and in beautiful company, if we do say so ourselves.

Students and teachers, musicians and dancers, boy scouts and girl scouts, business men and business women, all came together to officially kick off one of the Southeast Tourism Society's Top 20 events to see yesterday afternoon. By 6 pm King Street had transformed into its own theater, offering a stage for celebration to participants and the audience alike.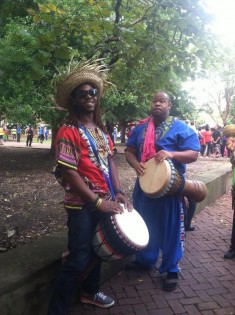 Dance teams and beauty queens marched to the beat of their own drum all the way to the festival's opening reception at the courtyard at Dock Street Theater- a rhythm everyone was invited to keep step to.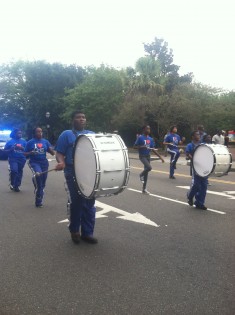 From now until October 5 the festival line up of events promises a rich variety of traditional African-American and Caribbean Arts favorites from jazz and poetry to storytelling and theatre.
If the opening day parade is any indication, the Charleston community is certainly in for a treat. With so many activities free or low of cost to the public, we thought we would provide a few highlights to mark on your calendars.
The Reggae Block Dance begins at 6:30 p.m., at Brittlebank Park on Friday, September 26. Charleston's own reggae band, The Dubplates will be headlining this fun-filled evening of music and dance. Also performing will be Dream Merchants, and Tony Roy and Yawd Lynk, plus African drumming and dancing with Bob Small and the Harambe Sisterhood.
Heritage Day at the Charleston Farmers Market on Saturday, September 27 from 10 a.m. to 4 p.m., in Marion Square showcasing local and regional talent along with a major Health and Wellness Fair that includes on-site screenings and health information tents.
The MOJA Finale in Hampton Park starts at 4 p.m. on Sunday, October 5, providing a rousing end to an exciting festival. There will also be African-American and Caribbean craft vendors, sumptuous ethnic and festival foods and more.
If you missed yesterday's festivities, there are plenty of opportunities to share in the deep heritage of the Lowcountry. For full details on the upcoming programs, be sure to visit www.mojafestival.com 
words + images: Lauren Park
Posted on September 27, 2014 by admin.
Categories: Performing Arts, Review
Tags: Caribbean, Charleston Art, Charleston Arts, Downtown Charleston, Gullah, Gullah Arts, Gullah Geechie, Moja, Moja Festival, Parade