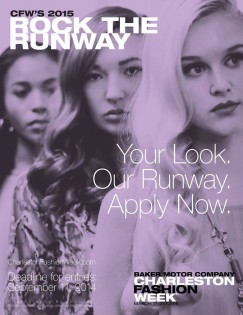 When it comes to fashion, there is one trend Charleston style icons can agree on: tickets to Baker Motor Company Charleston Fashion Week® have been around since 2007, and they just never go out of style.
On March 17 through March 21, 2015 East Coast designers and model talents will take on the runway beneath sweeping tents and flashing lights to strut their stuff for a competition that is as unique as it is fierce.
In addition to planning more than 35 runway shows (and their matching chic after-parties), the masterminds behind this five-night celebration have already begun accepting applications for the anticipated line up of undiscovered talent.
Charleston Fashion Week's® Rock the Runway Competition™ and Emerging Designer Competition are tailor made platforms for u
p-and-coming models and designers in the Charleston community to catch a second look from top model scouts and agents, media, photographers, and press representing fashion hotspots across the country.
Think you have what it takes to see your name on the runway?
buy lipitor generic https://rxnoprescriptionrxbuyonline.com/lipitor.html over the counter

Ready to strike a pose to prove it?
buy cialis generic https://yourcialisrx.com over the counter

The deadline to submit online applications for the Rock the Runway Competition™ is this Thursday, September 11, 2014. Designer talents should have their applications all sewn up by October 13, 2014. Both online applications can be found at charlestonfashionweek.com
words: Lauren Park
Posted on September 18, 2014 by admin.
Categories: Wearable Art
Tags: Art Mag, Charleston Fashion Week, Chsarts, Fashion, Wearable Arts