Something Wicked This Way Comes!
Indeed it does, and it is called Macbeth!
One of William Shakespeare's last tragedies, "Macbeth" is also one of his most bloody ones.  The play begins with the infamous witches luring and enticing Macbeth with their prophecies of how he will one day be king.  With this, the evil seed is planted and makes quick roots.  Seized by the desire for power, Macbeth and Lady Macbeth kill the current king so that he can become the new King of Scottland.  Of course, this cannot end there as his desire for power grows ever stronger, and his guilt also starts to take over and make him mad.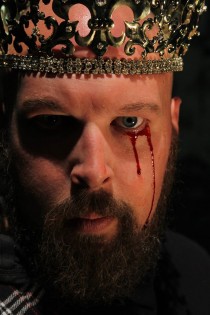 Macbeth begins to see ghosts of the men he has killed, and is clearly tortured by these visions, but Lady Macbeth urges him on, and there is no escaping from the deep trench of guilt and madness that he has gotten himself into.  There is nowhere to go but down, and try for more and more power.  He even goes as far as executing Lady MacDuff and her children as he feels threatened by MacDuff.
The story is an intense and bloody one and is extremely well-executed by the team at the Village Repertory Company.   Local actor Robbie Thomas plays Macbeth with great accuracy, and wears his kingly robes and fits of madness well.   Keely Enright shines as power-hungry Lady Macbeth, who appears to be the one without any conscience at all until we see her in the famous "Out! Out! Damn spot!" monologue where her guilt comes through while she is sleepwalking.  All of the actors did a fabulous job of bringing this Shakespearean tragedy to the Charlston stage with Josh Wilhoit as Macduff, Haydn Haring as Lady Macduff, Michael Smallwood as Banquo, Addison Dent as Malcolm and Nat Jones as King Duncan.  The witches were one of my favorite characters as they eerily lingered about and harnessed more evil with their spells.  Of course, there were numerous audience members mouthing the words "Double, double, toil and trouble. Fire burn and cauldron bubble…" as they were casting their famous spell.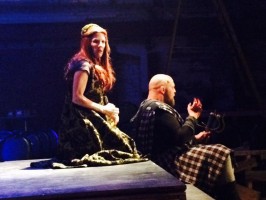 The Woolfe Street Playhouse was also the perfect venue for this play as they transformed it in a way that the audience was in the middle of the action (and all the sword-fighting)!  From the set design to the costumage, it is clear that there was a lot of effort and forethought put into the look and feel of the space, and the idea to make it so in-the-audience's-face was a brilliant one, in my opinion.  We all moved as the actors moved and shrieked in horror when someone was killed and there was blood everywhere.
"Macbeth" is one of the best plays in Charleston this season!  There will be performances now through November 1 at the Woolfe Street Playhouse. Tickets range from $20-$30 and are well worth it.  Click here for tickets. 
"Out, out, brief candle!
Life's but a walking shadow,
a poor player that struts and frets his hour upon the stage
and then is heard no more:
it is a tale told by an idiot,
full of sound and fury,
signifying nothing."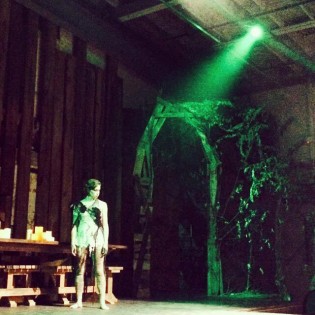 words by:  Olivia Pool
Posted on October 19, 2014 by admin.
Categories: Performing Arts, Review
Tags: Charleston, Keely Enright, Macbeth, Performing Arts, Play, Robbie Thomas, Shakespeare, Theater, Theatre, Village Rep, Woolfe Street Playhouse