In its fourth year as one of Charleston's premier, must-see music and food festivals, the annual Zac Brown Band Southern Ground Festival has officially taken over Blackbaud Stadium this weekend- and Daniel Island never sounded (or tasted) this good.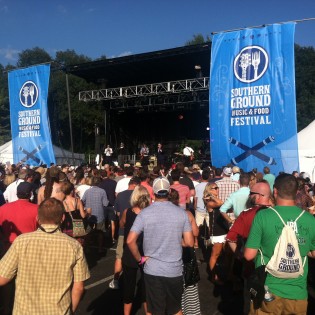 In record-breaking temperatures for mid-October, thousands of festival-goers grabbed a picnic blanket yesterday and set up camp for a guaranteed good time. The Saturday lineup this year promised stellar performances from headliners including Blues Traveler, North Mississippi All Stars, Greensky Bluegrass, Darrell Scott, and of course the man himself, Zac Brown. With dual stages sandwiching some of the most savory fare in the Lowcountry, this all day event did not disappoint.
On top of the big name bands, some of the most standout performances of Day One took place on the more intimate Charleston Battery Stage. Between the flawless harmonies of The Secret Sisters and the soulful, chill-inducing (despite the 90 degree weather) sound of St. Paul & the Broken Bones, we found ourselves running back and forth from the main stage almost all day.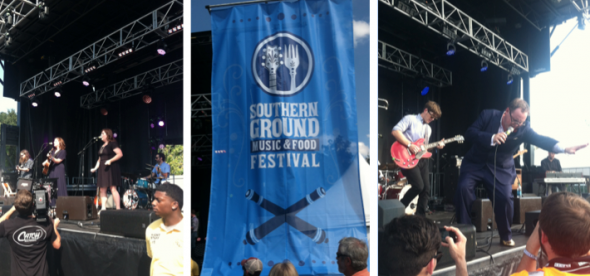 Along the way we stopped off for a refuel at Southern Ground Grub Food Court and we have decided the name doesn't quite do it justice. There is nothing more homegrown than savory pulled pork, melt in your mouth mac and cheese, and "hush puppies to-go." The band's personal chefs and local Charleston restaurants/ food trucks have truly created a come-to-the-table collaboration daring you not to get seconds. Consider us guilty, as our Day Two menu is already planned.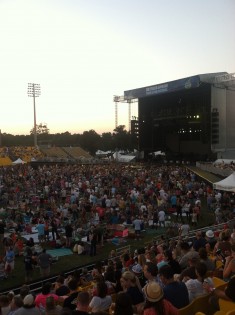 Back at the Southern Ground stage, the audience had been primed for the main event with an electrifying performance by talented guitar duo, Rodrigo y Gabriela and the signature, catchy tunes of harmonica virtuoso, John Popper + the Blues Travelers.

Just after sunset ZBB kicked off a two hour, energy packed set with The Devil went Down to Georgia. The band made sure to hit all of our favorites including Knee Deep, Colder Weather, All Alright & Jump Right In. But as any ZBB fan knows, Zac always has a few tricks up his sleeve. The crowd went wild for the "in-the-round" style rendition of Billy Joel's Piano Man and an unbelievable interpretation of Queen's Bohemian Rhapsody. Zac and the band wrapped up the night with a nod to our armed forces during Chicken Fried that left the crowd erupting with American pride.
All in all, Southern Ground has done it again. This weekend in Charleston, we couldn't agree more, "it's a sweet, sweet life living by the salty sea."
Did you miss yesterday's shows? It's not too late to grab your tickets for Day Two here!
words + photos: Lauren Park
Posted on October 12, 2014 by admin.
Categories: Culinary, Feature Post, Performing Arts
Tags: #SGFest, #SouthernGround, #ZacBrownBand, Arancini Bros., Art Mag, At&T U-verse, Bai5, Bon Banh Mi, CAA, Charleston Battery, Charleston City Paper, Cory's Grilled Cheese, Cupcake, Festival, Girlilla Marketing, Home Of The Eat & Greet, Hubee D's, JAM, Live Music, Lucca, Madison House, Maui Jim, Music, Oak Steakhouse, Opal, Performing Arts, Ristorante Lidi, Roar, Roti Rolls, SESAC, SoundEvents, Sticky Fingers, Strawberry Fields, The Macintosh, Vineyard Vines