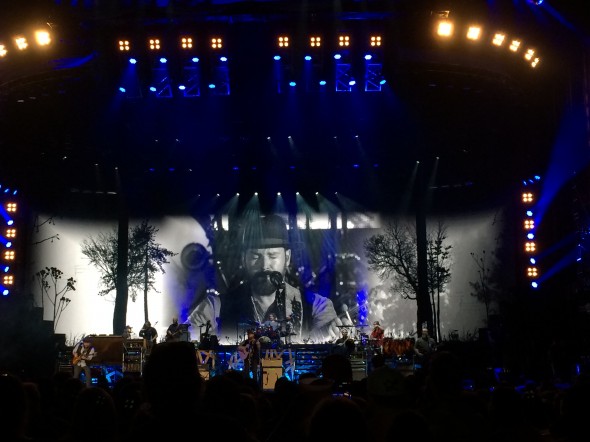 The second day of Zac Brown's Southern Ground Music & Food Festival brought out a smaller albeit enthusiastic crowd for the final day of food trucks, music, and rampant displays of some of the most interesting personal brand products we've ever seen. With considerably cooler weather than the first day of SGMFF, we can only assume folks didn't return for this breezy and lovely day at Blackbaud stadium because they suffered from heatstroke or over-active partying the day before.
The Preservation Hall Jazz Band put on a rousing performance on the side stage between Gov't Mule and the man himself, Zac Brown. Their lead trumpeter's solo was stuff of legends. The crowd was clustered close to the stage, taking in every note with enthusiasm. Chalk it up to our fondness for New Orleans brass bands if you must, but there is something magical about a band whose music can literally transport you to a different time zone and state of mind.
We took this time to get some grub, ordering the Jambalaya with shrimp, sausage, and chicken, and a divine beef brisket over mashed potatoes topped with pickled red onion; both were served in paper cones, from the Zac Brown Southern Ground food truck "Cookie" by Chef Rusty. Then it was back to the musical grind, as we headed to the main stage for the man of the hour.
The Zac Brown Band set kicked off with four songs of his own, but things really got going when Brown called Warren Haynes (the hardest working man in rock and roll) back out to cover "Statesboro Blues," an Allman Brothers favorite. Haynes had played earlier, with his other band Gov't Mule.
During "Highway 20 Ride," Brown's own father joined him on stage, which was a touching moment. Then Brown upped the ante even more by bringing out two uniformed armed forces service members during "Chicken Fried."
Next came the acoustic set, where he brought out the banjo playing impresario Béla Fleck for an instrumental piece. This lead into two apropos covers, "Oh My Sweet Carolina" by Ryan Adams, then "Carolina In My Mind" by James Taylor. Way to play to your crowd, Mr. Brown.
Brown has a high production quality and a solid formula to his shows: opening electric set>acoustic set>electric>encore + guests + costume changes between most sets (where was the signature beanie!?). The formulaic nature of his shows is perhaps the one thing that we'd like to see evolve a bit. There were several songs that were played both nights. Brown has a large enough catalogue of hit songs to not duplicate two nights in a row…particularly cover songs like "Bohemian Rhapsody;" the epic tune would have felt more exciting and special if had it not been played the night before.
All in all, there's nothing like a great day-into-night of music under the sky and stars at Blackbaud Stadium for the fourth year of Southern Ground Music and Food Festival.
words + images: Stacy Huggins
Posted on October 13, 2014 by admin.
Categories: Culinary, Performing Arts, Review
Tags: Allman Brothers, Bela Fleck, Blackbaud Stadium, Gov't Mule, Preservation Hall Jazz Band, Southern Ground Festival, Southern Ground Music, Warren Haynes, Zac Brown, Zac Brown Band