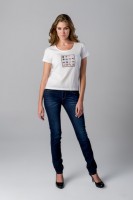 Here at Art Mag, we are huge advocates for the portable canvas. A wardrobe is an artistic representation of personal style, color management, and a walking sculpture of creative vision. FIGI Jeans has revolutionized the concept of wearable art by teaming up with artist, John Rossi, to combine art pieces with everyday attire like jeans and t shirts.
Launching this new line, is Creative Director and Designer, Diane Carleton. Even as a young girl, Carleton immersed herself within sewing and sketching, and her passion developed into a successful career in the fashion world. Growing up in the seventies, Carleton attached herself to the idea of fashionable expression in comfortable clothing.
buy plavix generic https://noprescriptionbuyonlinerxx.net/plavix.html over the counter

What better way to combine fashion-forward clothing with comfort than with jeans? Now, with twenty years of experience, Carleton was more than prepared to put her ideas into action.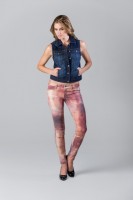 For the new line, Carleton collaborated with John Rossi.
buy nexium generic https://noprescriptionbuyonlinerxx.net/nexium.html over the counter

Rossi is an artist who utilizes found objects like fabrics and paper and shows their decomposition over time. His works reflect the story of the objects he finds, and his pieces show dimension as well as simplicity. Carleton comments that his works are "a visceral sense of grit and strength."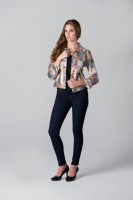 The line launched in March of 2014, with the mindset toward fall fashion. All products are created with environmentally friendly materials and are based out of the US. Carleton goes to great lengths to make sure that her products are sourced from the best quality materials and are generating a better economy in America.
Manufacturing a line of high-fashion everyday wear, Carleton has provided the perfect staple items for the woman looking to express her creativity through clothing. Her line combines staple pieces with statement pieces, made from quality materials that fit your body. Shop online or find a boutique near you!
words: Amber Jamison
Posted on October 25, 2014 by admin.
Categories: Wearable Art
Tags: Art, Comfort, Fashion, FIGI, Jeans, John Rossi, Made In The Usa, Shop, Wearable Art, Women's Fashion