Welcome to the trailer park.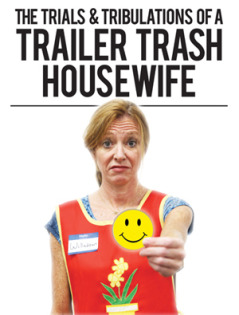 The Trials and Tribulations of a Trailer Trash Housewife is a play written by funnyman Del Shores, who is responsible for deep southern comedies like the cult classic Sordid Lives and Southern Baptist Sissies.
The show has comedy written all over it. Our heroine Willadean is a housewife who lives in a Texas trailer park, has a sassy quick-witted best friend, and liberates herself by getting a job at the Super Walmart. Classic comedic formula, right? Not even close.
Yes, the play is a comedy and hysterical in true Shores style, but it also possesses a dark and serious undertone, meant to shed light on the issue of domestic violence. "I never set out to write this play," Shores, who flew in from Los Angeles specially for this performance, explained during his Q&A after the show. "I did so much research because I wanted to get it right."
The actors of What If? Productions made sure they got it right as well. They brought in Melonea Marek, a domestic abuse consultant, during rehearsals to better understand the behaviors and responses of victims and abusers involved in abusive relationships. The play's script and the execution capture the complexity of an abusive relationship, and somehow incorporates humor.
Kyle Barnett plays J.D. Winkler, who on some level we sympathize with because of his misunderstandings of life, but on a much stronger level despised for letting these misunderstandings rule his life. His character is alternately charming and despicable, a drunk who blames his wife for getting pregnant when they were young and ruining his future. It's her fault that he never amounted to anything in life. Barnett plays his character so well that his explosive arguments with Willadean make you feel trapped inside that trailer with him, unable to escape his abusive pull. He was terrifying.
Sam Andrews excels as Willadean Winkler, the dutiful housewife of J.D. who spends most of her days confined to their trailer, trying to keep her marriage together. Barnett does such a great job convincing us how much of a lowlife his character is, it would be natural to think Willadean a tad pathetic for staying in a relationship with him. However Andrews really nails the idiosyncrasies of the role, the victim's behaviors and responses, and ultimately wins the sympathy and understanding from the audience. Andrews engrossed us with the story of Willadean so much that by the end of the play, we were genuinely happy for her hopeful new life as a Super Walmart greeter.
Most of the play's humor comes from Kelly McDavid, who plays Rayleen Hobbs. In each scene Rayleen struts out in a tawdry short jean skirt, revealing mid-drift, and F.M.P. heels. Shores commented that McDavid, playing this five-times married cocktail waitress, at first looked too young for this role, but Shores said he loved how she played the character. A well deserved compliment. McDavid does an amazing job delivering that classic Del Shores humor while blending her outrageous character into the dramatic story of J.D and Willadean.
Joyel Crawford also provides the witty one-liners, but her character of La Sonia Robinson is more the voice of reason for Willadean. La Sonia is the sassy best friend of Willadean, who pronounces her name "Lasagna," and always has a Big Gulp in hand. The way Crawford plays La Sonia at times seems too sophisticated for the trailer park, but then again we've never been to the trailer park in Texas before.
A blues singer appears throughout the show and acts as a one-woman Greek chorus line, offering commentary and bridging the scenes. Tonya Williams effortlessly hits the soulful bluesy songs, Shores' original lyrics of the play. Williams seems out of place if the audience doesn't connect that she is the singing spirit of La Sonia's deceased sister, who we learn was killed in an abusive relationship that mirrors Willadean's own story (listen for La Sonia to tell the story about her sister in a red Easter dress, then notice Williams showing up in a red dress to tie the story together and provide meaning).
The Trials and Tribulations of a Trailer Trash Housewife is about humor (it's OK to laugh) and it's also about the cycle of abusive relationships that are almost impossible to break. The show is very intense yet funny, and we highly recommend you catch one of the final performances, presented by What If? Productions this Friday, December 19, and the final performance on Saturday, December 20. 84 1/2 Society Street, shows at 7:30 pm, tickets $15-20.
words: Matt Mill
Posted on December 18, 2014 by admin.
Categories: Performing Arts, Review
Tags: Del Shores, Kyle Barnett, The Trials And Tribulations Of A Trailer Trash Housewife, What If Productions