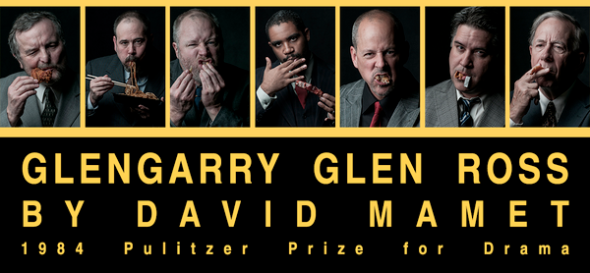 PURE Theatre is known for producing ground-breaking contemporary theatre. So during her curtain speech, Artistic Director Sharon Graci addressed the fact head on. David Mamot's Glengarry Glen Ross is a Pulitzer-Prize winning play. In 1984. Which makes this a little out of their wheelhouse. But, as Graci so blithely told the audience, GGGR is exactly the kind of play that PURE would have done if PURE had been open in 1984.
GGGR is probably the first time all of the men on PURE's core ensemble have been on stage together, and the all-male cast is a delight in their gratuitous swearing and varying levels of machismo. GGGR is directed by Erin Wilson, and set the heyday of the slick salesman. Competitive, testosterone-filled, swagger in suits. It really doesn't even matter what they're hawking, just that they close the deal. But the market's down, and the pool of cash is drying up. There's just not enough for everyone anymore.
The outstanding performances go to Randy Neale and David Mandel. David Mandel is the young buck, at the top of his game. He can spin gold from a pile of dung, and make it seem like your won idea. But every once in a while it'll come back to bite him in the ass.
Neale plays the aging salesman Shelley who still needs to provide, but just can't seem to close the deal the way he used to. It's a painful sight to watch, the youth callously disregarding the man who was once top-dog but is now dismissed. Neale is forced to plead, to grovel, for a few good leads, solid ones that will actually deliver. But the gatekeeper just won't give him the time of day.
buy nolvadex generic https://noprescriptionrxbuyonline.com/nolvadex.html over the counter

So it's time to take matters into his own hands.
buy isotretinoin generic https://noprescriptionrxbuyonline.com/isotretinoin.html over the counter

GGGR is a quick moving play. Rodney Lee Rogers' character presents an idea to take down 'the man' that would certainly be illegal, and of course he wants someone else to do the dirty work. Desperate times make desperate men, and lead to desperate actions.
Make sure you catch the one of the remaining performances, and don't worry, you have time. GGGR runs until February 14th.
PURE is hosting their first fundraiser, The PURE Experience, on February 8th from 3-6 pm, full of food, drink, and performances. Tickets are $75, and save some cash for their live auction of curated experiences, opportunities that don't exist in normal life.
Posted on January 30, 2015 by admin.
Categories: Performing Arts, Review
Tags: David Mamet, David Mandel, Glengarry Glen Ross, Laurens Wilson, Mark Landis, Michael Smallwood, Pure Theatre, Randy Neale, Rodney Lee Rogers, Rw Smith, Sharon Graci