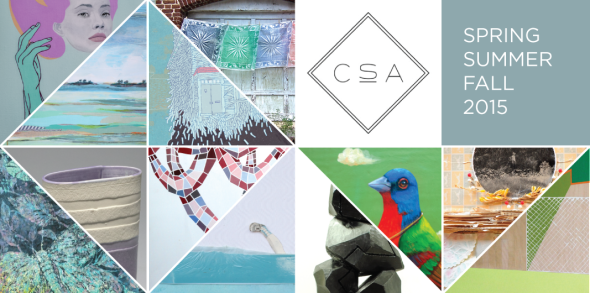 Charleston Supported Art is entering their second year of 0ffering curated shares of contemporary artwork by local artists. Shares are limited, and available for purchase on their website. The 2015 artists are:
SPRING | Pick-up Event – April 23
Chambers Austelle (painting)
Elizabeth Calcote (printmaking/textile)
Chris Nickels (illustration)
Karin Olah (mixed media)
SUMMER | Pick-up Event – August 6
Arianne King Comer (printmaking/batik)
Lune Mer Porcelain Studio (ceramics)
Riki Matsuda (mixed media)
James Wine (painting)
FALL | Pick-up Event – November 5
Jordan Fowler (sculpture)
Nina Garner (photography/mixed media)
Lisa Shimko (painting)
Alex Waggoner (painting)
For $425 + tax, you'll get one share from your choice of Spring, Summer or Fall (or buy all three!), containing four original works of art to add to or start your art collection. When you do the math, it's a great deal. Most of these artists would be considered emerging, with an established artist anchoring each season.
Seasons are purchased individually, and while you cannot pick and choose between the artists or the work, you'll be able to choose based on representative work from each artist. You can meet the 12 artists and see real life examples of their artwork at the upcoming Meet and Greet on Thursday, February 19 at Redux Contemporary Art Center.
There's always the risk you might not like the work…but that's okay. Art makes a great gift. And you can feel great about the fact that you are supporting local artists with a paycheck.
Learn more and purchase your shares at CharlestonSupportedArt.com or contact them via email, [email protected]
words: Stacy Huggins
image provided by Charleston Supported Art
Posted on February 1, 2015 by admin.
Categories: Preview, Visual Art
Tags: Alex Waggoner, Arianne King Comer, Chambers Austelle, Charleston Supported Art, Chris Nickels, Contemporary Art, CSA, CSArt, Elizabeth Calcote, James Wine, Jordan Fowler, Karin Olah, Lisa Shimko, Lune Mer Porcelain Studio, Nina Garner, Riki Matsuda