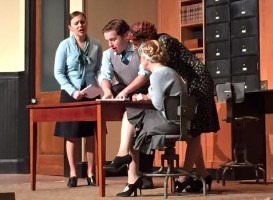 The Village Repertory theatre company, in residence at the Woolfe Street Playhouse, is back in action.
The beautifully restored Woolfe Street Playhouse is outfitted with tables and tea candles that set the scene for London Wall. Playwright John Van Druten was a modern writer of 1930's England, depicting the role of women in the contemporary business world. This play goes beyond pure entertainment, as it examines social interaction between the genders in London at the time.
The Village Repertory Co.'s London Wall transports their audience to Messrs. Walker, Windmere and Co., a London solicitor's office, in 1931. Our story follows four women who work as typists in a London solicitor's office, each of different ages and romantic stages in life and society. There are considerable differences in office culture from this era when compared to what you see in offices to rent in paddington these days, all of which are explored in the play.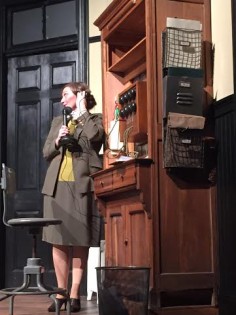 Miss Bufton (Sarah Callahan) is a young blonde woman who is portrayed as the ideal woman in regards to her romantic life. She gives the audience a strong idea of what was expected from women in the 1930's.
Miss Janus (Becca Anderson), an engaged 35 year old woman, is quite the opposite as her romantic life is turned upside down forcing her to reevaluate her career and place in society.
Miss Hooper (Lara Allred) demonstrates the view of divorce and remarriage in society.
Miss Pat Milligan (McKenna DuBose), is the youngest woman in the office, and at 19 she is learning about love and is caught between young love with Hec Hammond (Christian Persico), and the idea of love with an older rich man, Mr. Brewer (Robbie Thomas), who happens to be a solicitor at the office.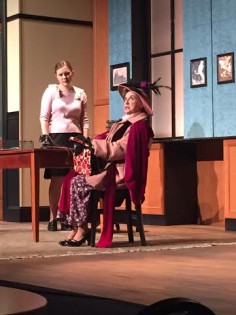 London Wall will keep you at the edge of your seat and make you blush. Director Keely Enright presents a lost play that offers an intimate view into the role and expectations of women in the business world in the 1930's.
The Village Repertory Co. and its Theatre Charleston Award winning performers winners Becca Anderson, Samille Basler, Robbie Thomas, Jeff Jordan, Bronson Taylor, Lara Allred and Sarah Callahan bring the play to life.
London Wall continues to enlighten viewers until February 14th.
words and images: Rachel McDermott
Posted on February 1, 2015 by admin.
Categories: Performing Arts, Review
Tags: Becca Anderson, Bronson Taylor, Christian Persico, Jeff Jordan, John Van Druten, Lara Allred, London Wall, Mckenna Dubose, Robbie Thomas, Samille Bassler, Sarah Callahan, Village Rep, Woolfe Street Playhouse