Charleston Stage at the Historic Dock Street Theatre brought tears to our eyes last night with their performance of The Diary of Anne Frank. Director Julian Wiles did this incredibly daunting and popular story justice. The beloved book has been transformed into a play where Anne's diary entries are read between scenes. Because this story takes place over two years, the entries act as a way to provide a foundation for the next scene, and give information about what has happened between scenes.
A primary focus of the play was to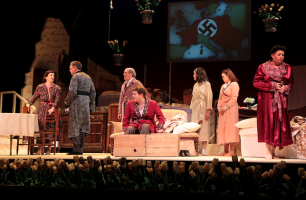 create a strong connection and understanding of the family dynamic of the Franks, the van Pels, and Jan Dussel who are all Jews in hiding in one small hidden loft in Amsterdam during World War II. This is what makes the play so emotional. After the entire first act and most of the second, the audience is now attached to the Franks, van Pels, and Jan Dussel and share their fears, hopes, and dreams. Charleston Stage's actors and the set provided great insight into the fear fueled emotions, and the struggle of living in such tight and stressful living conditions.
Lila Clark, who played Anne Frank, and Benjam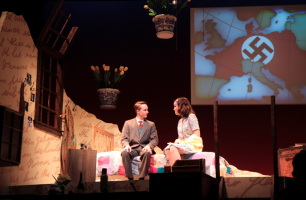 in McCoy, who played Peter, portrayed Anne and Peter's complicated relationship in a way that made me feel their emotions right along with them. Their moments of tension were so strong that I was holding my breath, their conversations about love made me blush, and their deep conversations about being alone and striving for the future gave me both the feeling of hope and despair.
Join in on the emotional recollection of Anne Frank's experiences with performances of The Diary of Anne Frank continuing to March 1.
Check out more information here.
Words: Rachel McDermott
Images: Charleston Stage
Posted on February 27, 2015 by admin.
Categories: Performing Arts, Review
Tags: Charleston Peforming Arts, Charleston Stage, Historic Dock Street Theatre, Julian Wiles, The Diary Of Ann Frank