As humans, we often reminisce of days gone by, simpler times that did not include cell phones, emails, or endless social media feeds. Charleston's reminiscent theme of choice has been the 1920's for some time now, understandably. It was the jazz age…the time of dancing the Charleston, of Gatsby and flappers, or Tommy guns and gangsters…but this past weekend took us to an entirely different era.
Society 1858's Magical Mystery Tour
Society 1858 is very talented at getting folks to dress the part. For their annual Winter Party, the Society 1858 crew decided to pay homage to the Beatles' Magical Mystery Tour, a tongue-in-cheek reference to the fact that they'll be nomads of sorts while the Gibbes Museum of Art is under renovation. There were false lashes and wigs galore, an Andy Warhol or two, go-go dancers, and some trippy John Lennon types, but the crowd favorites were definitely the Pan-Am stewardesses and pilots. Nothing like flyin' the friendly skies.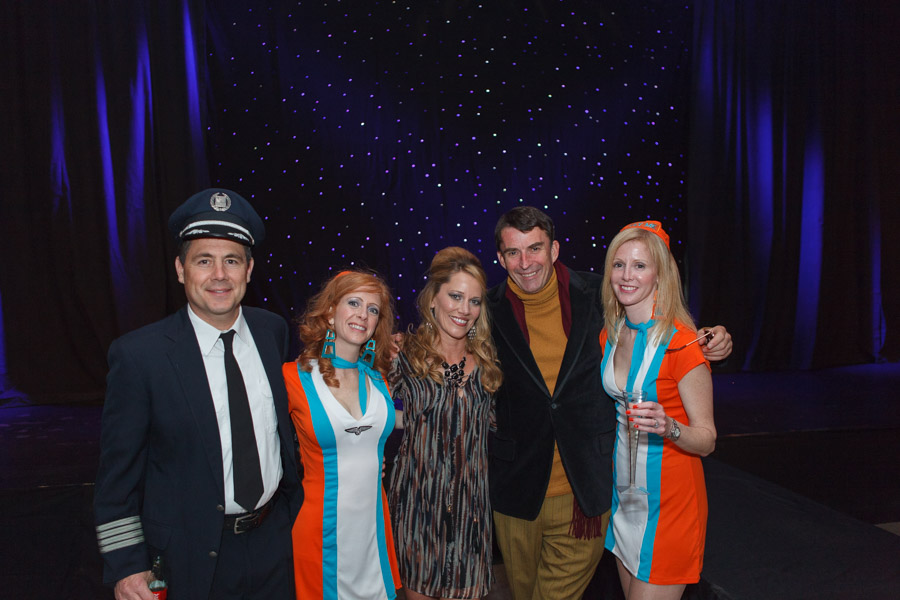 Easily the most exciting part of the evening was the winning part. Guests purchased tickets to place in the baskets corresponding to their favorite pieces of artwork, generously donated by local artists, in the hopes of taking one home at the end of the night.
In the most dramatic fashion ever, our cohorts for the evening won the last work of art to be announced, John Duckworth's sweeping abstract landscape. Newlyweds Justin and Crystal Poole were over the moon about winning the work and meeting Duckworth, who obliged the happy couple with a photo and a phone call to share the news with Poole's mother, a fellow art lover and collector.
The Magical Mystery Tour was held at the Woolfe Street Playhouse, one of the best transitions of upper King, and we spotted several actors doubling as bartenders. They were unfailingly gracious when we needed another drink, especially after recalling their last performance at the theatre. There were tiny, tasty nibbles from Tristan Catering, all cleverly named to fit the theme–Strawberry Fields forever. The deviled quail eggs were delightful, but perhaps they should have gone with a larger bird, as the crowd ravenously made short work of them. We're both excited and a little anxious to see what images Cavortress Julie Wheat captured; she's guest blogging for Charleston Grit, guessing she'll be highlighting the fashion. At least we know we are in the clear–no one ever accused us of being a fashion plate.
Society 1858 images by Karson Photography
---
Charleston Jazz Orchestra's 1959: Jazz Ahead
The year Jazz changed. That year is 1959. For their first show of their seventh season, Maestro Charlton Singleton opened the second set of 1959: Jazz Ahead with "Let the Good Times Roll," a song recorded by Ray Charles and the Count Basie Orchestra in 1959. It was a lively tune to set the tone for the season, but we almost wished it had closed the night. Singleton's vocals seem to be improving with age, his charisma is infectious, and his showmanship just doesn't stop.
 The Highlights
Leah Suarez on vocals, Gerald Gregory on piano, and Mark Sterbank on tenor sax, in "Embraceable You." Suarez reclaimed the vocals on behalf of this often-instrumental Gershwin tune, and we thank her for it.
"Crepuscule with Nellie" Thelonius Monk's masterpiece is a complicated endeavor for any band and "an incredible expression of music" says Maestro Singleton.
Another complicated tune, this one by Charlie Parker, named "Donna Lee," featured Gregory on the piano and Robert Lewis on alto sax. Lewis stood out particularly, an excellent melding of his personal style–buoyant and full of flair–with a well-suited composition, arranged by Sterbank and Singleton.
"Lucky To Be Me" featured Suarez on vocals, and the dulcet tones of John Cobb's baritone sax. We cannot say enough about how lucky we were to be present for their performance of Bernstein's "Lucky To Be Me."
Just a couple of songs after, the band performed a song by Charles Mingus, with whom we were not familiar, but plan on becoming. "Fables of Faubus" opened with Cobb on bari sax and then Lewis on the alto sax. It was a four star kind of deal. This was a moment that we pray was recorded for perpetuity; we'll stand in line to buy that album.
Charleston Jazz Orchestra excels at educating and entertaining their audience simultaneously. The team–the whole team, from front of house to the musicians to the photographers–always strive for excellence, and their season opening performance of 1959: Jazz Ahead achieved a high level of excellence.
We encourage you to make a date to see one of their upcoming shows. Don't worry if you don't know a lot about jazz, or even anything at all. They will welcome you, and teach you. These Jazz Artists of Charleston are all about bringing more people into the fold. They are consistent, brave, and always working to reach greater artistic heights.
Learn more about the JAC and CJO, find live jazz any day of the week on their Jazz Around Town calendar, and purchase your season 7 tickets at charlestonjazz.com, call 843.641.0011, or visit the Jazz House at 93 Spring St, Suite A in downtown Charleston.
CJO images by Arielle Simmons
Posted on February 23, 2015 by admin.
Categories: Performing Arts, Review
Tags: 1959, Cavortress, Charleston Jazz Orchestra, Charlton Singleton, Cjo, Gerald Gregory, Gibbes Museum Of Art, Jazz Artists Of Charleston, John Cobb, John Duckworth, Julie Wheat, Leah Suarez, Mark Sterbank, Robert Lewis, Society 1858, Tristan, Woolfe Street Playhouse