Congratulations to Básico's Chef Bryan Cates!
Cates was invited to participate in Sunday Supper at the Chelsea Market, a Friends of James Beard Benefit Dinner in New York City. The dinner will be held on March 22, and nationally renowned chefs will be cooking and in attendance at the family style dinner. It's already sold out–but if you're going to be in the area, call 212.627.2308 to get on the waiting list.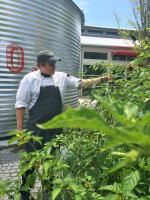 Chef Cates attended the Art Institute of Charleston, and earned a Bachelors of Science in culinary arts management. His culinary career began at Opal restaurant in Mt. Pleasant. At Opal, Cates was in charge of the charcuterie program and food styling, and during his time there he served as a sauté chef and garde manager. Chef Cates moved to Bacco where he learned the art of pasta production and wood-burning oven techniques. He left the Lowcountry and moved to Birmingham, Alabama to work at the Hot and Hot Fish Club with James Bead Award winning Chef Chris Hastings. Cates moved back to Charleston to become the head chef at Básico in August 2014, and we are so glad that he did.
Chef Cates has been assigned a fish course that is similar to the award-winning dish he prepared for the Limehouse Citrus Celebration this past February. He plans to use local Charleston fish to prepare citrumelo-cured cobia with citrus varietals, brown butter pistachios, radishes, and local baby carrots.
The benefit will raise money for the Friends of James Beard Foundation and The Jamestown Charitable Foundation. We wish him the best of luck.
Words: Rachel McDermott
Images: Básico
Eat There Now:
Básico
4399 McCarthy Street, North Charleston
843-471-1670 | [email protected]
Tues-Fri 11am-10pm, Sat 10:30am-10pm, Sun 11am-9pm
Editor's Note: If you haven't been to Básico since Bryan Cates took over in late 2014, you are absolutely missing out. The menu has been revamped, and the food is incredible. His dishes are adventurous without being unattainable, and full of flavor. Cates seems to be constantly playing with new pairings and textures, crafting the next perfect dish as he evolves the menu.
buy valtrex online langleyrx.com/valtrex.html no prescription

  As Charleston residents, we are ridiculously spoiled with the vast number of superior chefs…but week in and week out, I crave Básico. –SH
Posted on March 13, 2015 by admin.
Categories: Culinary
Tags: Art Institute Of Charleston, Bacco, Basico, Bryan Cates, Chris Hastings, Friends Of James Beard, Hot And Hot Fish Club, James Beard Foundation, Mixson, Opal, Sunday Supper At The Chlesea Market