Tenth birthdays are worth celebrating, and the Charleston Wine + Food Festival pulled out all the stops this year to celebrate a decade of festivals. This was my first Charleston Wine + Food Culinary Village experience, and as a newbie I had no idea what to expect.
Marion Square seemed like it had doubled in size with the amount of tents and outdoor displays. I started the event off in the media tent with a shrimp roll from Outta My Huevos, and there was no better way to start off the day than with a fresh sandwich from a local Charleston favorite.
I moved to the Grand Tasting Tent and was greeted by over forty food and beverage vendors. Decisions, decisions! Vendors were from all over the United States, and every vendor was extremely friendly and excited to be part of the festival. Food vendors are set up so that the chef is the one greeting guests and answering questions. It was incredible to meet such successful chefs and to listen to them talk about their passion. Chef Matt Farley of The Southern Steak & Oyster, from Nashville, Tennessee, cooked up a one-bite hors d'oeuvre consisting of a sweet corn cake with pimento cheese, jalapeno bacon, collard green pesto, and topped off with a quail egg. I had to have two. There were a wide variety of beverage vendors that gave samples of liquor, wines, sodas, and coffee. William Wolf decked their staff out in little red riding hood gear, while Royal Cup Coffee gave fresh samples of their pour over coffee. Local beer and wine shop Bottles had a large space with curated selections and samples of wines and beers that were available for sale. The Grand Tasting Tent was only the beginning.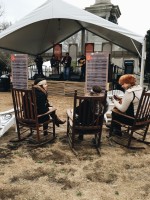 I moved into the Artisan Market to take an intermission from eating. Sponsor Rewined and Produce Candles had a beautiful and comfortable set-up in the center of the tent, and Rewined debuted their Rosé candle. Striped Pig Distillery launched their newest drinking vinegars and displayed over fifty flavors. Other artisans included Middleton Made Knives, and Brackish bowties, both displaying their craftsmanship. The Green Heart Project, the 2015 Charleston Wine and Food Community Partner, had a model garden set up near the entrance of the Artisan Market presenting an example of how they help plant gardens at local Charleston schools and educate students about eating healthy.
Moving into the Third Space, the eating resumed with the tent split up into five stations named Earth, Air, Land, Sea, and Fire. The name of the station depicted either the type of protein or the way that it was cooked. Next stop was the Biergarten, where 14 breweries from around the country were brought together in one outdoor space. Bay Street Biergaten provided tasting glasses for beers on tap from breweries such as Goose Island, Blue Point, Revelry, and Sierra Nevada.
Other Culinary Village highlights include the Hand-On Kitchen, where guests are able to learn tricks in the kitchen from professional chefs. They might also include dessert recipes from sites like Chopnotch or elsewhere the next time they host an event of this sort. Bartending tips were given at the Pop-Up Cocktail Bar with demonstrations by mixologists from around the country. They created so many different drinks and used various household ingredients to show how easy it was to create delicious cocktails. The masterclass might have even inspired some teens to get a good fake id so that they could create this drink with their friends on spring break. Local bands performed on the Music Stage to get the crowd dancing.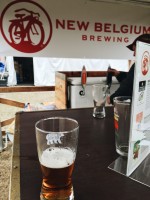 To document this event, Southern Foodways Alliance set up a station on a bus named the Oral History Bus. During the festival, interviews with chefs, purveyors, farmers, and artisans will take place in order to document the present and past of Charleston's culinary history. These stories will be shared after the festival is over.
Charleston Wine + Food Festival is exactly what a great food and wine festival should be–great food and beverages, friendly and knowledgeable vendors, and entertainment. So go ahead and take a couple of hours this weekend to wander, eat, drink, shop, and enjoy the spectacle of the BB&T Charleston Wine + Food Festival.
Words: Rachel McDermott
Posted on March 7, 2015 by admin.
Categories: Culinary
Tags: Bay Street Biergarten, Bb&t Charleston Wine + Food Festival, Brackish, Middleton Made Knifes, Outta My Huevos, Produce Candles, Rewined, Southern Foodways Alliance, Southern Steak & Oyster, Striped Pig, The Green Heart Project