Maestro Charlton Singleton opened Saturday evening's second set of Charleston Jazz Orchestra's Maiden Voyage: A Tribute to Herbie Hancock with his usual charisma, saying, "Herbie's the Man," which was met with general agreement, head nods and murmured yeahs from the audience. He went on to explain that there are two halves to Hancock's musical contributions: the traditional, Miles Davis and Blue Note years, and later the funkier, edgier, electric Herbie, with synthetic beats and pop-crossover hits.
They opened the set with "Cantaloupe Island," which was arranged by Charlton Singleton and featured the one and only Cameron Handle on trumpet. Handle gave a standout solo and it was a strong opening work for the show. This was the kind of performance that made me wish for a live album of the CJO, so I could relive that performance time and again.
The second selection was the title song for the show "Maiden Voyage," which allowed delicate sounds to stand alone and shine, and then build into into a wave or wall of sound. Pianist Gerald Gregory and alto sax Robert Lewis were featured on this piece, but it was drummer Ron Wiltrout who stood out to me (don't worry, there's plenty of praise to come for Gregory and Lewis later). Wiltrout's defined, staccato sounds on the cymbals and drums were controlled yet mesmerizing.
Mark Sterbank gave what Singleton called "a little local flavor" to his arrangement of "Eye of the Hurricane," one of Hancock's more adventurous tunes. There were scales on the sax that brought back childhood fears from The Wizard of Oz, the anxieties of the hurricane season. The quiet moments featuring Gregory on keys in the middle of the song rang very true as the metaphorical eye of the storm, a time of calm surrounded by anxiety and fear of the second of half of a storm still to come. It was powerful arrangement and beautifully executed, even if the subject matter brings up some innate fears that every natural born coastal Southerner surely has!
Singleton's stories are some of the fun moments between performances, where he shares humorous anecdotes and insightful bits of history, or encourages the audience to get up and dance, "if you feel so inclined." As the band prepared to play "Driftin'," Singleton shared the story of a nay-sayer telling Hancock that he was crazy to start his own band while still collaborating and playing with Miles Davis; "I give it a year," the nay-sayer predicted. Legend goes that Hancock later went back to that same soul and replied, "You're right. My band didn't last a year, it last 12 years." Got to love that gumption.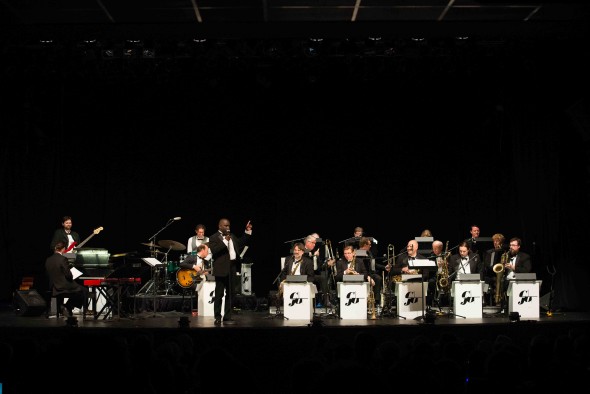 During "Driftin'," Singleton actually walked away from conducting the band to solo alongside Sterbank. The two had impeccable timing and delivery, and the band's ability to play on in perfect time is a testament to the musicianship of the entire cast of characters. Singleton's solo also brought back fond memories of seeing the Charlton Singleton band play live in support of his last album The New Deal.
Lewis seemed to be in a particularly good mood that evening, and it really showed during his solo on "Chan's Song." Lewis gave one of the best soprano sax performances in memory that evening. When these musicians are enjoying themselves, it permeates the entire 937-seat Charleston Music Hall. They are beautifully infectious with their music, and the pace of the show was wonderful–we looked at the time and couldn't believe that nearly an hour had passed already, much to our dismay.
"Dolphin Dance" should be added to your 'Island Mix' playlist. Alto saxophonist Jon Phillips arranged it and soloed, along with Gregory on piano. This show was made to highlight Gregory's talent. Over the years, Gregory has developed into an incredible player; the raw talent of youth deepened and empowered with education, experience, and age.
Singleton introduced "I Thought It Was You" with a story from his own youth, when his sister emphatically insisted that Singleton listen to this new album, "you've got to hear this!" she said. The only piece of the show featuring vocals, Singleton did justice.
The rhythm section was particularly strong throughout the entire performance of Maiden Voyage, but when they plugged in, they hit a new level. Bassist Jeremy Wolf was killing it that night. We couldn't get enough. My beloved, my perennial date for all CJO performances, turned to me no less than four times throughout the performance with very high praise for the musicians. His one wish was that Maiden Voyage would have gone on twice as long!
As Singleton introduced "Rockit," he announced that it would feature Sterbank on the bongos and guitarist Tyler Ross as deejay/mixmaster on the scratch board. I THOUGHT HE WAS KIDDING! Mind. Blown. It shouldn't have been quite so blown as this song was popular when I was a wee one, but my mother kept me pretty sheltered from things like MTV; there is a lot I seemed to have missed in the 80's and early 90's.
The night was closed out with "Watermelon Man;" "you've got to give the people what they want," Singleton joked. I loved seeing Sterbank get into this performance, and bassist Wolf was killing it again. We would like to officially give him a high-five for his performance. Plug in any time, Mr. Wolf. We will be there.
The Charleston Jazz Orchestra has built an ambitious band and crafted an incredible 2015 season; there are four shows left in this, their seventh season. Next month, prepare yourselves for Lady Day: Billie Holliday's Centennial Celebration on April 25th. Treat yourself to tickets if you have not before. There is nothing else like the CJO in town.
words: Stacy Huggins
images: Reese Moore
Posted on March 24, 2015 by admin.
Categories: Performing Arts, Review
Tags: Cameron Handel, Canteloupe Island, Chan's Song, Charleston Jazz Orchestra, Charleston Music Hall, Charlton Singleton, Dolphin Dance, Driftin', Gerald Gregory, Herbie Hancock, I Thought It Was You, Jazz Artists Of Charleston, Jeremy Wolf, Jon Phillips, Maiden Voyage, Mark Sterbank, Miles Davis, Robert Lewis, Rockit, Ron Wiltrout, Tyler Ross, Watermelon Man