The Hearts & Plugs Redux Residency show continued last night with their 2nd show. Revival Entertainment Co. hosted this event that featured Elim Bolt, ET Anderson, and a surprise visit from Mr. Bonetangles and Will Schutze.
Elim Bolt started off the show strong with their high energy and rock sound. Johnnie Matthews, previous founder of Sequoyah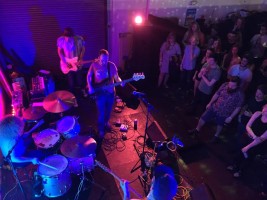 Prep School, and has since then joined with Jessica Oliver creating their new band that expresses their southern roots and experiences.
Mr. Bonetangles made a surprise visit during intermission. Among the taxidermy and plush animals in Ru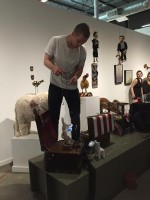 fous, Will Schutze brought his marionettes to life. Schutze creates the marionettes, music, and performance himself. and the result is incredible. His performance brought a deep respect to puppeteers as he brought life to his characters, and joy to the crowd within the first few seconds of his performance.
Et Anderson closed out the show with a psychedelic set. Fusing garage rock and 60's vibes, Et Anderson got the crowd moving with flying hair from head banging. The bands energy and showmanship left fans in a lively mood to close out the 2nd show of the series.
The next Hearts & Plugs Redux Residency show will be held on April 1 with Infinitikiss and Run Dan Run. Doors open at 8 pm and the shows start at 9 pm.
Tickets can be purchased here.
Posted on March 30, 2015 by admin.
Categories: Performing Arts
Tags: Elim Bolt, ET Anderson, Heats & Plugs, Infinitikiss, Mr. Bonetangles, Redux Revival, Revival Entertainment, Run Dan Run, Will Schutze