It is the morning after Kulture Klash 8, and I woke up exhausted, with a ringing in my ears. It is the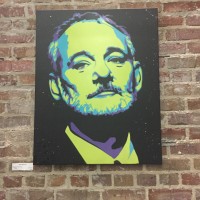 body's reply to six hours of non-stop dancing.
Returning from a three-year hiatus, Kulture Klash 8 pulled out all of the stops and added a charitable element, with the proceeds benefiting the Lowcountry AIDS Services. Held in the cavernous Memminger Auditorium, the event displayed art pieces, hosted performers, and served drinks in one giant room. Zombie Bob's Pizza and Roti Rolls set up shop in the courtyard along with a biergarden and additional DJ stage. In addition to the food trucks and music, beloved local street artist Patch Whisky was spray-painting a jeep in the courtyard.
The night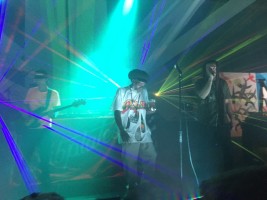 started with DJ Trail Mix and Woodgrain on the main stage, followed by Marcus Amaker's empowering spoken word performance. Cousin Dan lit up the stage with their animal print leggings and their electronic synth pop sounds. The Dubplates took the stage next playing reggae with special guests such as MC Squared, a beat box extraordinaire. Mix Master Mike closed out the event with a set that had guests dancing like no one was watching for over an hour.
Flanking the stage were six extremely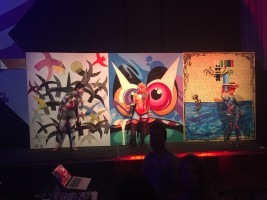 large paintings brought to life by painted dancers. Nathan Durfee's cat imagery was not only painted on the painting, but also on the dancer who was painted to blend in.
Art was hung around the perimeter of the space. Artists such as Patch Whisky, Karen Ann Myers, Robert Lange, Chris Dotson, and Trever Webster's work hung mish-mashed next to each other on the wall. Although a strong idea and praise is in order for the variety of works, it was hard to appreciate some of the works hung so high off of the ground. Since the performances and the art were in the same room, the lighting was dark–any artworks that used a dark color palette were hard to se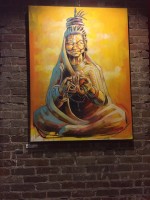 e.
The art hung in the entrance way and hallways were successful, as large sizes and color palettes captured the viewers attention while walking into the event. Guests could buy prints of selected works on display as well as Kulture Klash merchandise. The BadJon and SHT! collaborative photo booth was a fun addition, providing a way for guests to get involved and interact with the art.
Kulture Klash came back with a bang. The high-energy performers, strobe lights, and constant music kept the crowd dancing and moving. The variety and amount of artists displayed was commendable and visually stimulating. With two thumbs up for the performers and some tweaks to be made to the visual arts, we're looking forward to next year's event and glad that Kulture Klash is back.
Words: Rachel McDermott
Posted on April 26, 2015 by admin.
Categories: Performing Arts, Review
Tags: BadJon, Chris Dotson, Cousin Dan, DJ Trail Mix, Karen Ann Myers, Kulture Klash, Kulture Klash 8, Marcus Amaker, MC Squared, Mix Master Mike, Nathan Durfee, Patch Whisky, Robert Lange, Roti Rolls, SHT!, The Dubplates, Trever Webster, Zombie Bobs Pizza