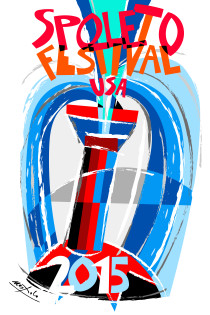 Make sure to clear some time in your schedules on April 11 and 12, as the Spoleto Festival will be offering discounted tickets for those who purchase tickets in person at the Festival Box Office at Charleston Visitor Center, 375 Meeting Street. The box office will be open from 9 am – 5 pm on Saturday and 1 – 5 pm on Sunday. To help make your decisions easier, a Spoleto Tent will be set up on the corner of King and George with information and recommendations about the upcoming Spoleto season.
The best deals will go to those who buy tickets to more than four performances, as the tickets will be 25% off. Purchases for one performance will receive a 10% discount, two performances a 15% discount, and three performances a 20%. Ticket buyers who spend more than $150 will receive a free tote bag or 2015 poster!
The full list of performances that are offered at a discount can be found here
Read more about the 2015 Spoleto poster unveil here.
Posted on April 8, 2015 by admin.
Categories: Performing Arts, Preview
Tags: Locals Weekend Saving Event, Spoleto, Spoleto Box Office, Spoleto Festival Usa