Art Mag's Exclusive Spoleto Festival Coverage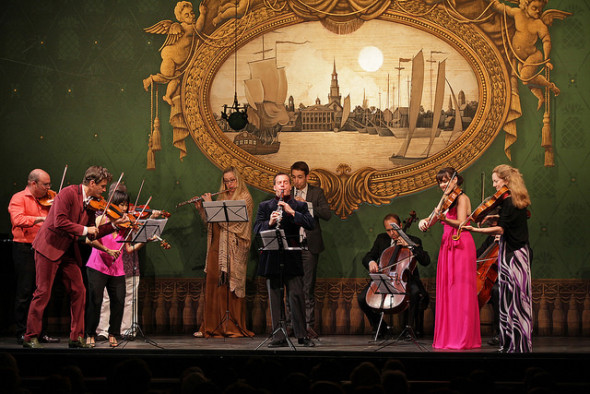 I've been doing it wrong, all these years. How did that happen?
I got caught up in the glitz and glamor of big theatrical productions, seduced by world premier operas, distracted by jazz singers, or unusually flexible circus artists. Through all this time, the Bank of America Chamber Music Series was patiently waiting, with exceptional programming performed by gifted musicians.
Geoff Nuttall, the Charles E. and Andrea L. Volpe Director for Chamber Music, opened the 1 pm set with jokes about the composer's impossible name, Buxtehude (1637-1707), before they launched into his Sonata for Two Violins in C Major, BuxWV266.
The Chamber Music performance was much more lively and exciting than I ever expected. The musicians all stood, save for the harpsichord player and the cellist, clustered downstage. They were so close you could see their facial expressions, and catch the nuances of their verbal and non-verbal banter with one another. It was fascinating and an engaging way to see four incredible pieces of music for Chamber.
Nuttall expertly combines my favorite things, fine arts with education, as he introduces each work with both humor and fascinating facts, like how Benny Goodman commissioned the series of pieces for bass and clarinet we were about to hear for a tour through Cold War-era Russia. Nuttal informed us that of the eight pieces, we would hear five today, and only one of them had a name, "Calypso Serenade," and when we heard it, to call out. As the fourth piece started and everyone chuckled and murmured at the obviously calypso-style notes, Nuttall called from off stage, thinks like "Daquiri!" and "Piña colada!" No stuffy, stodgy chamber music hosts here.
canadian pharmacy gaetzpharmacy.com no prescription

Spoleto Festival is full of virtuosic performers and works of art, and musicians like Todd Palmer (clarinet), Nuttal himself (violin), Livia Sohn (violin), and Tara Helen O'Connor (flute), are shining examples of the talent that Spoleto attracts to our fair city. The experience as a whole was singularly surprising, like I'd finally be admitted to this secret club that had been hiding in plain sight all along.
buy medications generic gaetzpharmacy.com/medications/ no prescription

It was a perfect way to spend a long lunch hour, and I highly recommend you add a Chamber Music performance to your schedule.
words: Stacy Huggins
images by William Struhs, courtesy Spoleto Festival USA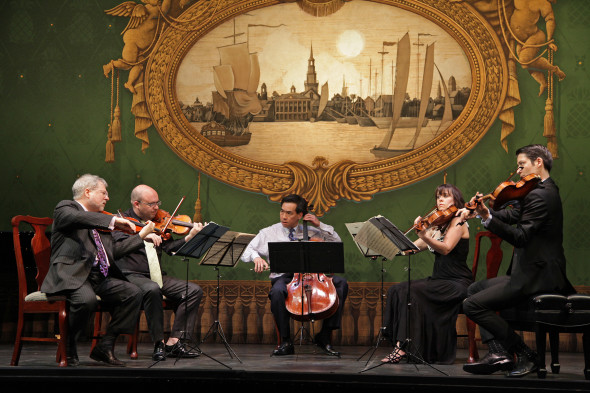 Posted on May 29, 2015 by admin.
Categories: Performing Arts, Review
Tags: Anthony Manzo, Benjamin Beilman, Chamber Music, Christopher Costanza, Daniel Phillips, Geoff Nuttall, Livia Sohn, Owen Dalby, Pedja Muzijevic, SFUSA2015, Spoleto, Spoleto 2015, Spoleto Festival Usa, St. Lawrence String Quartet, Tara Helen O'Connor, Todd Palmer