Art Mag's Exclusive Spoleto Festival Coverage
As jazz singers go, Madeleine Peyrox is remarkably self-aware. She confided that she really only has three types of songs: love songs, the blues, and drinking songs…
buy valtrex online https://blackmenheal.org/wp-content/languages/new/us/valtrex.html no prescription

and often all three appear in one song. She had something for the cynical heart and for the hopeful heart, and each could enjoy the other songs.
As it is frequently noted, her song selection belies her impeccable taste. The simple trio of instruments, Peyroux on acoustic guitar or six-string ukulele, John Herington on electric guitar, and Barak Mori on double bass, supported Peyroux's lovely vocals. Her sound is exclusive. She's often compared for her sound that hints at Billie Holiday, and that is true, but her vocal delivery is singular, and conveys complete confidence and understanding of her instrument.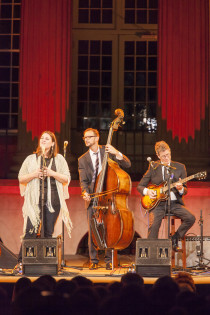 Despite her French name, she is actually American; she did spend a considerable amount of time living in Paris, where she began her music career as a teenager.
buy symbicort online https://blackmenheal.org/wp-content/languages/new/us/symbicort.html no prescription

She busked on the streets of Paris while developing her music, and has made a name for herself as a gifted jazz vocal artist with impeccable taste in song selection, performing and recording both covers and original music. Leonard Cohen's "Dance Me To The End of Love" is easily one of her most recognizable songs, from Careless Love, 2004, the album that left anonymity in the dust for Peyroux (I own it, it's wonderful).
As the band took a little break, Peyroux remarked that she didn't really know what to play next, and would we like a French song? Spoleto typically draws a more international crowd, but typical Americans that we are, everyone wanted a French song. She joked that we would believe anything she said in French, which is true…and quite funny.
She impressed me with the range of musicians she drew from. Peyroux introduced a song by a Jamaican dub artist, and one gentlemen behind cried out enthusiastically. It was a remarkable song that she performed beautifully, and almost call and response style, the gentlemen behind me participated with her, which I took to mean that he quite approved of her reinterpretation of the song.
Peyroux has one more performance this evening that you simply must catch. Join her under the magical oaks in the Cistern Yard at the College of Charleston for a perfect, perfect Spoleto evening.
words: Stacy Huggins
images courtesy Spoleto Festival USA
Posted on May 29, 2015 by admin.
Categories: Performing Arts, Review
Tags: Barak Mori, Jazz, John Herington, Madeleine Peyroux, SFUSA2015, Spoleto, Spoleto Festival, Spoleto Festival 2015, Wells Fargo Jazz Series