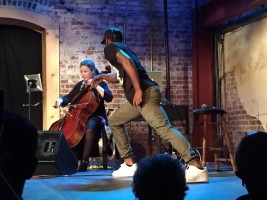 Art Mag's exclusive Spoleto Festival coverage
What Moves You was Spoleto Festival's risk and reach to modernity this year, and the show pushes the limits of and breaks classical boundaries. Ashley Bathgate, a solo cellist, and Ron "Prime Tyme" Myles, a Memphis jookin' dancer from Los Angeles, met three hours before their debut performance as Myles stepped in for Charles "Lil Buck" Riley. Their collaboration and their short practice timed allowed the performance to have raw emotion, and the two's connection with each other was one of awe as they fed of each other energies and passions as they performed together.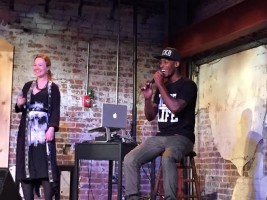 The evening began with traditional classical solo cello music from Bach. Bathgate would play and Prime Tyme would respond to the music in dance. The artists took a break to speak about what inspires them to move. Bathgate eloquently described how dance was a visualization of music, and how the music she was playing was written as solo cello suites but were a duet with a dancer. Prime Tyme described his experience as if the audience is not there and how he was in a different place and zone. Some of Prime Tyme's moves were choreographed, but most of his movements were improvised.
As a young solo cellist from New York City, Bathgate experiments with technology, techniques, and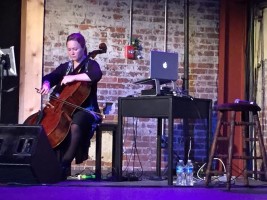 new age sounds. She shares this new music with attendees with three pieces: "Empty City" by Yoav Shemsh, "Broken Rosary" and "Velvet" both by composer Kate Moore. This new music used electronic sounds such as whistles, bells, and chanting in a backing track. Some Spoleto attendees had a negative response, and left mid-show, but I thought that it showed not only was she extremely talented, but she was branching out to play this new age solo cello music that was equally as challenging and interesting as the classical compositions. She represented the future of contemporary music.
Prime Tyme joined Bathgate on stage for Abel Korzeniowski's "Dance for Me Wallis" and Saint-Saens' "The Swan". There were beautiful moments where the one would be looking at the other while performing in awe and excitement, and you could tell that the performers were excited by the collaboration. Their passion for performing was so alive and visible that when the two came together, their energy was felt throughout the entire theatre.
Upcoming Performances at the Woolfe Street Playhouse: May 30 and 31. Tickets
Words & Images: Rachel McDermott
Posted on May 30, 2015 by admin.
Categories: Performing Arts, Review
Tags: Abel Korzeniowski, Bach, Kate Moore, Prime Tyme, Ron Myles, Spoleto Festival Usa, What Moves You, Woolfe Street Playhouse, Yoav Shemsh