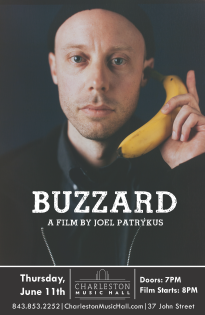 The Charleston Music Hall is the ideal spot to watch movies this summer. With the closest theatre in the suburbs (not to mention expensive), this is the perfect way and atmosphere to watch a variety of films. And there's free popcorn.
On June 11, the choice of film was Buzzard, a film by Joel Potrykus. Marty is a loner who works as a bank temp; he is unhappy in his life, unhappy in his career, and obsessed with Freddy Kruger. He commits small crimes to entertain himself, like returning office supplies for cash or calling Hot Pockets to complain in order to get free coupons. His petty crimes begin to escalate; he takes mortgage check refunds that need to be mailed to new addresses, forges the signature and writes 'pay to' in order to cash them in his name. When he realizes he can get away with it, he turns the checks in for cash, thinking little of the consequences.
buy xenical online https://cpff.ca/wp-content/languages/new/canadaa/xenical.html no prescription

When is boss gets suspicious, Marty becomes paranoid and lives in his coworker's "Party Zone" basement.
buy bactroban online https://cpff.ca/wp-content/languages/new/canadaa/bactroban.html no prescription

His paranoia continues until he buys a bus ticket to Detroit and his destructive path continues until he gets violent with a cashier at a check cashing company. A surprising call from a pay phone ends his paranoia and the film.
There next film will be LCD Soundsystem documentary, Shut Up and Play the Hits, on June 24.
buy Topamax
http://buywithoutprescriptionrxonline.com/prednisone.html
http://buywithoutprescriptionrxonline.com
http://rxnoprescriptionrxbuyonline.com/lipitor.html
Posted on June 12, 2015 by admin.
Categories: Performing Arts, Review
Tags: Buzzard, Charleston Music Hall, Joel Potrykus, Shut Up And Play The Hits