Art Mag's Exclusive Spoleto Festival Coverage
Shen Wei Dance Arts returned to Charleston for Spoleto Festival USA with a world premiere performance and a revisited masterpiece to share with us. I missed this modern master of contemporary dance the last time Spoleto featured them, so I could not let history repeat itself.
Sottile Theatre makes a lovely setting for this otherworldly performance–a familiar, traditional venue to feature an entirely surprising performance of the unfamiliar. Untitled #12-2 presented large-scale projections of Shen Wei's abstract paintings as both a backdrop for and aesthetic that informed the choreography and costuming. The dancers' movements are amazing. Precise, controlled, contorted perfection, that feel as abstract and expressive as Shen Wei's paintings. There is a conversation of visual and performance art on stage, one informed by the other, and brilliantly so.
The beauty and the mystery of the choreography brings certain words to mind:
Minimal. Precise. Intentional. Distracting. Complementary. Curious. Contorted.
Powerful. Purposeful. Rigorous. Demanding.
There is a state of constant movement during much of the performance, particularly in Map (2005/2015), which is both impressive and alternately distracting. As one soloist or duo move apart from the group on their own journey, I found my eye distracted, drawn to other activity happening elsewhere on stage. Many movements are repeated in a contagion manner throughout the performance–making wise use of excellent choreography that is elevated by the emphatic repetition.
There is so much information to take in from the movement that I was grateful for the minimal costumes and set that are both interesting yet offer a space of quiet for the eye. Untitled #12-2 featured costumes of white, black, or grey, each dancer outfitted in different compositions of fluid, draping fabric in hues pulled directly from the canvases. Map featured more fitted costumes is gray-green hues with accents of yellow, which seemed deliberately distracting. In a positive way, if that makes sense–my eye was constantly trying to asses the differences and sameness-es between costumes.
Map was an enigmatic piece. During intermission, the curtain unceremoniously rose as the tech crew brought out giant balloons to fasten downstage. The balloons brought up questions and confusion for me–what was their purpose do they serve? Would they block or conceal the dancers? To be honest, I was much relieved when they were loosed immediately, rising to the ceiling yet still restrained by a single mono-filament thread. The choreography mimicked the music, whose score is by Steve Reich, featuring selections from The Desert Music. As new and more instruments are introduced, so are new movements and more dancers.
Shen Wei's rigorous artistic process is clearly demanding. The dancers incredible stamina is worth noting, as Map clocks in around 30-40 minutes. I still have confused feelings about the performance, even after rereading my notes and writing this entire review.
Do I love it? I'm not sure. Did it 'stretch' me? Yes. Would I recommend it? Absolutely. Do I "understand" it? I don't think so.
I sincerely hope that Shen Wei Dance Arts will return to Spoleto in the future, as I am positive this is some of the best contemporary dance has to offer. I would most of all appreciate the opportunity to have more context into which I could place what I've seen and make sense of the feelings it has left me.
There is one more performance of Shen Wei Dance Arts, catch it today.
words: Stacy Huggins
images: William Struhs, courtesy Spoleto Festival USA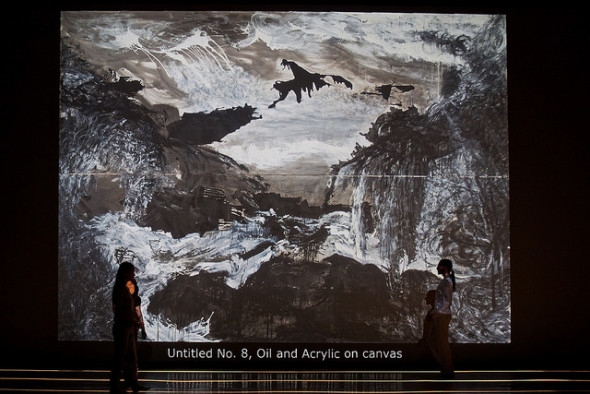 Buy Cipro online
http://buywithoutprescriptionrxonline.com/tadalafil.html
http://onlinebuynoprescriptionrx.com/valtrex.html
Posted on June 7, 2015 by admin.
Categories: Performing Arts, Review
Tags: Map, SFUSA2015, Shen Wei Dance Arts, Spoleto, Spoleto Festival 2015, Steve Reich, SWDA, The Desert Music, Untitled #12-2