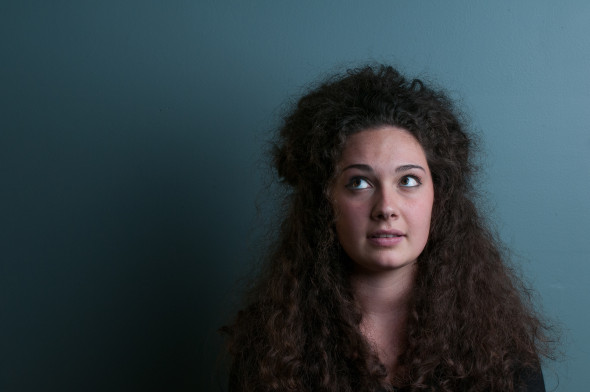 Spending time with family is never easy, but sometimes it can simply drive you mad. This is exactly the case in PURE Theatre's adaptation of Joshua Harmon's Bad Jews, which was dubbed "The Best Comedy of the Season" by the New York Times. PURE's young four-person cast went above and beyond in their portrayal of the strain and pressures of time spent with family. Bad Jews is set following the death of three cousins' grandfather as they all convene in New York for his funeral.
The show begins with Jonah, played by Miles Boinest, sitting in a Upper East Side apartment owned by his parents. Jonah is a soft spoken, quiet young man who avoids confrontation at any costs, which in his family is a unspeakably difficult task.
Shortly after meeting Jonah, Daphna makes her appearance. The role of Daphna was perfectly cast with Ashley Gennarelli, a College of Charleston graduate. Daphna is an opinionated college student who self-identifies as an extremely passionate follower of Judaism; or as her cousin Liam more boldly puts it, "Super Jew." She is constantly reinforcing her Jewish faith on her two cousins Jonah and Liam, as well as Liam's girlfriend, Melody.
Daphna makes it clear that out of all of her grandfather's possessions, the one thing she would like to keep is his chai, a small religious token he kept hidden throughout the holocaust. Daphna feels that she is the most entitled to the chai, as she is the most religious of the cousins. However, when Liam, played by Cameron Tagge, arrives at his parents' Upper East Side apartment with Melody (Sullivan Hamilton) it becomes clear that Daphna getting the chai will not be as easy as she thought, as Liam has plans of his own for keeping the relic.
Between Daphna's never-ending nagging and Liam's short temper, sparks begin to fly between the cousins, and continues to do so until a full-fledged fight breaks out across the stage. Air mattresses are sent flying through the air, girlfriends are tackled to the ground, and a barrage of insults and verbal attacks are hurled throughout the theater. As this scene unfolded, the audience would be torn between either laughing hysterically, or being tensely perched on the edge of their seat waiting to see where the fight might lead to next.
As one of this summer's highlight comedies, PURE Theatre's Bad Jews does a wonderful job of portraying the pressures of family. Director Dana Friedman Resnick captures not only the uncontrollable anger in a family's disagreements, but also portrays the comfort and happiness found in a shared memory from years before.
review: Neal Rice
images: David Mandel
buy Amoxicillin online
http://rxbuywithoutprescriptionrxonline.com/citalopram.html
Buy Singulair online
Posted on August 3, 2015 by admin.
Categories: Performing Arts, Review
Tags: Ashley Gennarelli, Bad Jews, Cameron Tagge, Joshua Harmon, Miles Boinest, Pure Theatre, Review, Sullivan Hamilton