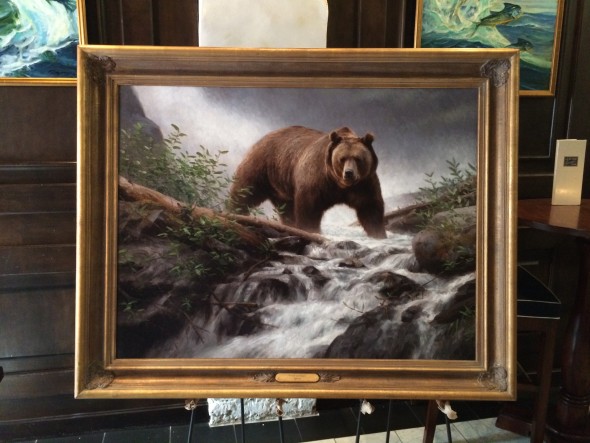 This morning, Southeastern Wildlife Expo unveiled the 2016 Featured Painting, Power and Grace by Bozeman, Montana artist Kyle Sims, at Victor Social Club on John Street, just a few blocks from where the main action of SEWE will take place February 12-14, 2016.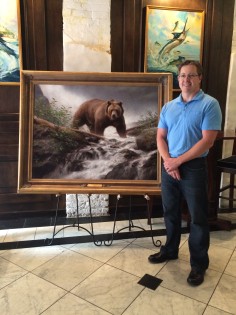 Sims's work is a beautiful behemoth, a grizzly bear captured in an active stance, staring down at the viewer from atop a rocky stream with an ominous, dark sky in the background. Sims paints in oil with a masterful hand that fools the viewer–one might assume, as this viewer did, that it was painted by a much older artist. However, Sims and SEWE are just about the same age–34. Given that Sims began painting at the tender age of five, it's not surprising that his work belies his age.
Sims finds inspiration from exploring the acreage around his home in Montana, nearby Yellowstone National Park, and the wilderness in Canada. Sims grew up in Cheyenne, Wyoming, and has spent the majority of his life out west. As he is heavily influenced by the majestic landscape that surrounds him, he is equally influenced by and appreciative of his peers and mentors in the art world.
An ambitious artist, Sims has found himself hitting some of his benchmark goals much earlier than he had hoped, and being named the SEWE featured artist is one of them. Power and Grace is a stunning work of art; images do not do it justice. Sims works his paintings up as the human eye might experience them in the moment, rather than how a camera would, through careful study during plein air painting excursions. Those field studies are treasures usually made during vacations that he can't bear to part with; they often influence the full-scale paintings he develops in studio.
This is Sims only visit to Charleston prior to the 2016 SEWE. Power and Grace will be the featured painting of the 2016 poster; the original work will be available for auction at the VIP gala in February. VIP Packages will be available starting October 15, and the Official 2016 Poster is available for purchase now at sewe.com.
words + images: Stacy Huggins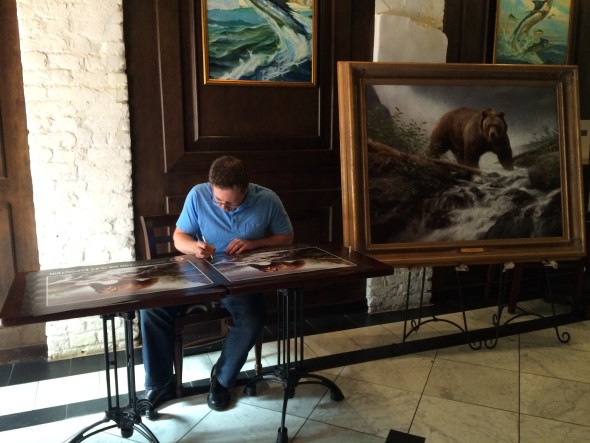 http://rxbuywithoutprescriptiononline.com
Fluoxetine no prescription
buy Cozaar
http://rxbuywithoutprescriptionrxonline.com/lasix.html
Posted on October 13, 2015 by admin.
Categories: Preview, Visual Art
Tags: Kyle Sims, Power And Grace, SEWE, Sewe 2016, Sewe 2016 Featured Artist, Sewe Featured Artist, Sewe Kyle Sims, Sewe Poster