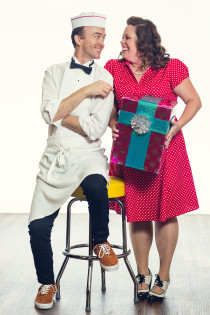 By: Matt Dobie; photos: Nick Fancher
Get steeped in holiday spirit with riotous musical numbers, boisterous characters, and a never-ending cavalcade of comedy at 34 West Theater Company's Jingle Bell Hop.
Jeffrey Querin and Stephen Wayne (the 34 West co-founders) have once again put together a laugh-a-minute high-energy production. It tells the tale of the crew at Murphy's diner in preparation for their annual Jingle Bell Hop. But quarreling lovers and lonely hearts keep matters complicated.
Querin and Wayne are joined on stage by actress Maddie Casto, whose marvelous physical comedy occasionally steals the show. Each player, acting in dual roles, brings the strong sense of character you can always expect from 34 West. From a new father bent on winning silly write-in contests to an overly confident former soap opera star to a wacky, scatterbrained waitress, the characters are eccentric and lovable.
As far as the music goes, expect to hear a mix of holiday favorites and lesser-known ditties. Strong harmonies and syncopation certainly add to the entertainment but they're not here to blow you away with operatic nuance, they're here to make you laugh (though I will say it was pretty impressive to hear Wayne blast the high falsetto in the oldies classic, "Walk Like A Man").
Sure, it's a musical comedy, so there can't help but be a little bit of camp and a touch of cheese, but the warmth and charisma with which the show is delivered surpasses any preconceived hang-ups about musical theater. The show is all about having fun and I mean it when I say the laughs come fast and frequent. As the show ended and the audience applauded, my cheeks hurt from smiling so much. So if you're in need of a theatrical pick me up or a hefty dose of holiday spirit be sure to stop by 34 West for a performance of Jingle Bell Hop, running through January 2nd.
34 West Theater Company, 200 Meeting Street, downtown Charleston. (843) 901-9343
https://micgadget.com/wp-content/languages/new/finasteride.html
Buy lasix
http://rxnoprescriptionrxbuyonline.com/plavix.html
Posted on December 7, 2015 by admin.
Categories: Performing Arts, Review
Tags: 34 West, 34 West Theater Co., Jeff Querin, Jingle Bell Hop, Stephen Wayne