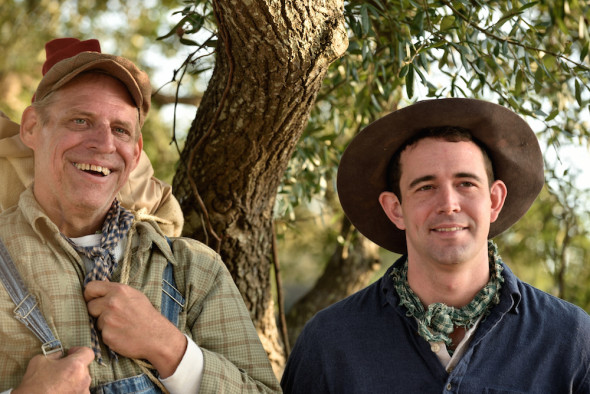 By: Matt Dobie
Of Mice and Men tells the story of George and Lennie, two men working from farm to farm in depression-era California. Threshold Rep's production of the John Steinbeck classic carries the requisite emotion, depth, and performances, but a series of smaller flaws compound, adding up to an underwhelming experience.
The acting as a whole is quite strong. Daniel Jones, who plays Lennie, is wonderful. A difficult role, complete with awkward ticks, stutters, and a speech impediment, all of which are carried out with unflinching precision.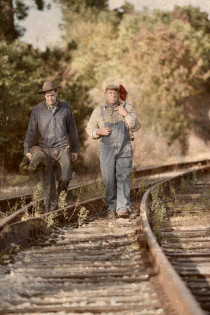 Having been written by one of the great American novelists, the dialogue, story arc, and characters are all skillfully developed. It is a sad, beautiful tale with real people, real dreams, and real pain, and all these elements are present in Threshold Rep's production, but certain flaws interfered with my enjoyment. One such issue was the blocking.
A few scenes are set in the foreground of the stage, so near the audience that spectator heads blocked my view of the action. I had to shift from side to side, straighten my back and raise my head, just to see the players. And I wasn't alone in this discomfort. I noticed many audience members jostling around in a similar fashion. There is also an unsatisfactory fight scene near the end of the first act. Now, I don't expect Hollywood-level fisticuffs, but I felt it could've been choreographed differently to garner believability.
The set design is sparse and simple, justifiable for a show that mostly takes place in a bunkhouse and a barn. I was, however, pulled out of the illusion by a fake tree placed so close to the bunkhouse that every time the door swung open, it swept along the leaves and branches. In real life, a tree so close to a building would get chopped down.
Other issues include set pieces banging together during a scene change and dialogue sometimes spoken too softly. I may be nit picking, but all these flaws amalgamate to produce a slight aura of unprofessionalism, leaving me unsatisfied and wondering what could've been.
Zocor no prescription
http://yourcialisrx.com/cialis_professional.html
http://cialisnextdaydeliveryusa.com
buy bupropion online
Posted on January 28, 2016 by admin.
Categories: Performing Arts, Review
Tags: Daniel Jones, Of Mice And Men, Theater, Threshold Rep