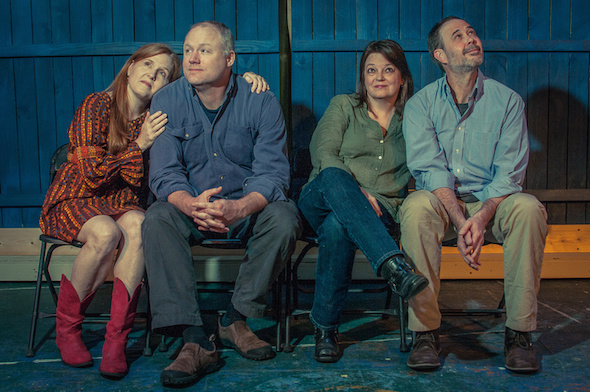 By: Matt Dobie
Perpetual purveyors of regional premieres, PURE Theatre brings yet another to the Charleston community. By the acclaimed playwright Will Eno, The Realistic Joneses is a tale of loneliness, uncertainty, absurdity, and mortality. And these heavy themes are masterfully balanced with wit, humor, and even a touch of hope. But what truly sold me on the brilliance of this production was how real (pun intended) it felt.
We are introduced to suburban couple Bob and Jennifer Jones as they sit on their back patio, watching the night sky. Soon they are introduced to their quirky new neighbors, John and Pony Jones. As their lives intertwine, we learn they all may have more in common then just their last names.
The script is poignant and profound. From the tense spats of an aging couple, to the awkward forced interactions between strangers, each scene rings true. The mood is completely original, somehow equally inspiring rambunctious guffaws and moments of sad stillness.
The cast of four, each carrying equal weight in the script, is strong across the board. They bring the characters off the page and embody a real person, not an archetype. They are not just saying their lines and waiting to react, they are Bob and Jennifer and John and Pony.
The sound design is also worth praising. It might seem contradictory, but I noticed how unnoticeable the sound design was. The hoot of an owl, the crack of a firework, they all came and left at the perfect volume, preserving every bit of realism.
The set design is also solid and simple, just wooden fences and sparse interior settings. Nothing more is needed to convey the story.
It is the reality of this story that truly moved me—the dialogue, the relationships—even to the point of wanting to immediately see it again. Eno fully succeeded in his aim to write "a naturalistic and realistic play" and the cast and crew of PURE Theatre is the perfect vehicle to bring his story to the Lowcountry. Shows run through February 13th.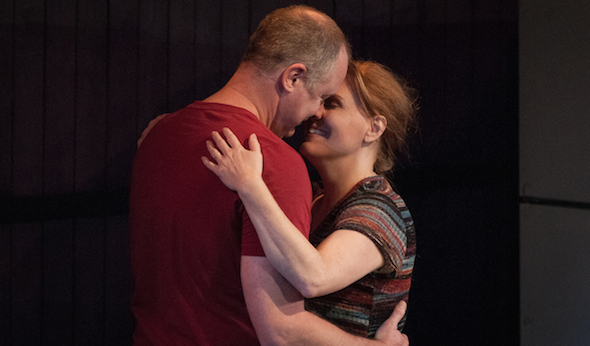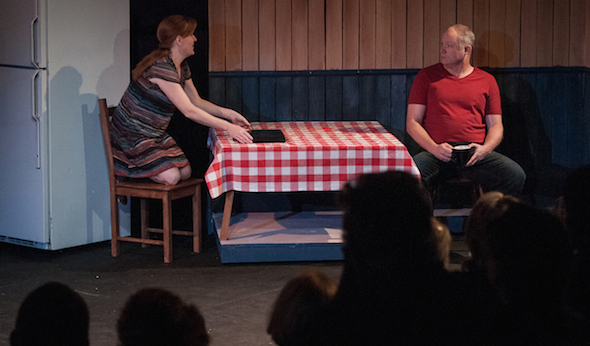 ---
PURE Theatre
477 King Street, Charleston
843.723.4444
puretheatre.org
Buy Trazodone online
http://padstyle.com/wp-content/languages/new
https://vifreepress.com/wp-content/languages/new/strattera.html
Posted on January 30, 2016 by admin.
Categories: Performing Arts, Review