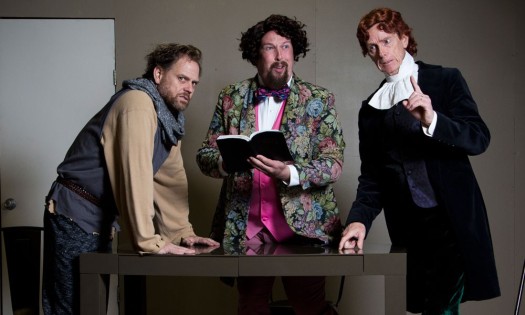 By: Matt Dobie
How did Thomas Jefferson, Charles Dickens, and Leo Tolstoy get trapped in a room together? Things get even weirder when they put their heads together to create the definitive gospel of Jesus Christ. Yes, this is the actual plot of Scott Carter's Discord: The Gospel According to Thomas Jefferson, Charles Dickens, and Count Leo Tolstoy presented by The Village Rep on Woolfe. At its best, the show is hilarious, smart, innovative, and even educational. But for all its brilliance, it lacks consistent drama and humor, and simply runs too long to maintain captivation.
The trio of actors is commendable. Michael Easler, Robbie Thomas, and Dave Reinwald in the roles of Jefferson, Dickens, and Tolstoy respectively, each bring the unique quirks and charisma of these historical titans to a modern audience. The set design is nothing more than a white room with a table and three chairs. Simple, ideal, all the script demands.
It is obviously well researched. Part of the enjoyment is learning about the lives of these great men and the profound history of rewrites and translations altering the Bible to its present state. And when it is funny, it is really funny. The problem is the duration. I am not one who gets bored easily, but a show about three men talking in a room can only go on for so long, especially when the humor wanes. The conclusion is certainly poignant and well devised but with all that preceded it, I left the theater feeling tired rather than exhilarated.
As I have said, it is smart and funny. Pair that with its slightly excessive running time and you have a play sitting on the fence between recommendable and not recommendable. Basically, it is not a play for everyone. But if you enjoy history, religious studies, and dry, sardonic humor, Discord is worth a viewing.
---
Village Repertory Co. at Woolfe Street Playhouse
34 Woolfe Street, Charleston
843.856.1579
woolfestreetplayhouse.com
Buy citalopram Online
buy Sildenafil no Prescription
Buy Prednisolone online
Posted on February 21, 2016 by admin.
Categories: Performing Arts, Review