Born among that rare breed of humans who seem to be bottomless pits of talent and prowess–Renaissance Men, some might say–Stefano Cecchini will leave you grasping at straws just to find something he can't do.
The internationally acclaimed painter has a degree in political science, an inclination for the tango, a skilled hand for restoring classic cars, and a strong arm on the tennis court. His operatic singing that bursts from the open windows of his studio is just as well known to his neighbors as his gorgeous trompe l'œil paintings.
It is clear, though, that his love of the visual arts has won out against the rest. His illustrious career has taken him across the globe, working on everything from cinematic scenery with Federico Fellini, illustrations at the prestigious Immagini Agency in Rimini, and even teaching at the European Institute of Design in Milan. These days, however, you will find him deep in his thoughtful studies and masterful renderings of his favorite subjects: luxury cars, striking portraits, and exotic wildlife from all over the world.
Cecchini made his debut in the states at the American Chapter of Safari Club International in 2003, where fellow member and owner of Grand Bohemian Hotel and Gallery, Richard C. Kessler, recognized a unique beauty in his work. Today, the Grand Bohemian Gallery is proud to exclusively represent Cecchini and his renowned oil and tempera paintings.
---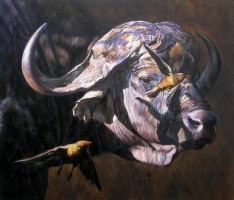 Stefano Cecchini
Grand Bohemian Gallery
55 Wentworth Street, Charleston
843.722.5711
grandbohemiangallery.com
Buy Synthroid online
buy Cialis Soft
http://rxbuywithoutprescriptiononline.org/fucidin.html
Kamagra without prescription
Posted on February 6, 2016 by admin.
Categories: Visual Art