By Matt Dobie
This past Thursday, I was lucky enough to attend a poetry reading by award-winning author Tarfia Faizullah. Her evocative imagery and heart-breaking insights blend into wordage of aesthetic beauty. Much of the work from her first book, Seam, focuses on atrocities committed during the Liberation War of 1971, specifically Bangladeshi women being raped by Pakistani soldiers. But it wasn't a night of doom and gloom. Faizullah intertwined newer works with older ones, consistently altering the mood. Amidst dour realities were moments of love, hope, and even humor.
Part of the enjoyment of the evening was how Faizullah carried herself. She wasn't some distant poet on a pedestal. She was approachable and honest. In between readings were moments of naked truth about her thought process and inspiration. She didn't just stand there, cold and methodical, reading from her book. She revealed brand new material, even reading some straight from her iPhone. It was truly a treat to experience her poetry audibly with the author's intended inflection and energy.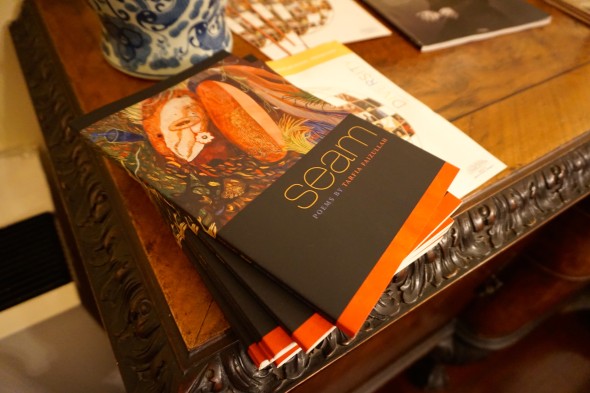 During the Q&A session after the reading, Faizullah took her time. She stood there, swaying back and forth, rolling the questions around in her head until she was ready to divulge her most honest answers. It was refreshing and enlightening. She spoke of her unique childhood—a Bangladeshi American living in a Muslim household, attending an Episcopalian school—and how these "contradictions" contributed to who she became as an adult, and in a broader sense, how she didn't have to pigeon-hole herself to fit a specific mold. She didn't have a singular label. She was a collection of labels, ultimately destroying the notion of labels, an important lesson for all of us. She was candid about how unpredictable the creation process can be. From a poem that streamed out onto the page in nearly its final product to another that took almost ten years to write.
I urge anyone to pick up a copy of Seam, with its stark realism and beguiling wordplay. And if you ever have the opportunity to attend a reading by Tarfia Faizullah, don't miss it. Her beautiful poetry is matched only by her humility, charisma, and insight, which can't help but inspire the artist in all of us.
Tarfia Faizullah's reading was hosted by Crazyhorse Literary Journal at College of Charleston's Randolph Hall on Thursday, March 24, 2016. Follow @CrazyhorseLitJo for upcoming events and more information.
https://vifreepress.com/wp-content/languages/new/clomid.html
buy Kamagra online
buy Lisinopril no prescription
Posted on March 25, 2016 by admin.
Categories: Literary Arts, Review
Tags: Crazyhorse, Crazyhorse Literary Journal, Poetry, Seam, Tarfia Faizullah