by Stacy Huggins | photos by Matthew Murphy
For any fan of Andrew Lloyd Webber or Broadway musicals in general, The Phantom of the Opera is undoubtedly a must-see. For a music- and ballet-loving daughter of a devoted Andrew Lloyd Webber fan, this production is so much more.
Cameron Mackintosh, one of the all-time greats, has revamped the award-winning musical with modern technology, to take advantage off all the advancements that 20 years affords–new choreography, new set design, and a brand new chandelier. "A lot has changed since the original production opened, and Cameron Mackintosh wanted to take advantage of all that and put it into a spectacular production…it's a lot of fun to share it every night," says Stage Manager Jovon E. Shuck.
"It's as carefully choreographed backstage as it is in front of the curtain," says Shuck.
Phantom By the Numbers:
More than 1,000 costume pieces.
More than 100 wigs and hair pieces.
Three wardrobe stylists travel with the production, and they hire another 20 in every city.
Traveling cast of 35 members; in total, they number 65 or so by the time you count all the crew, orchestra members, and managers.
It takes 16 semi-tractor trailers to transport the production from town to town. It takes 2-1/2 days to load in and 14 hours to load out; they'll hire an additional 100 local people for that, in addition to their road crew.
The chandelier weighs 1 ton, with more than 6,000 beads, and is part of the all-new set design for this show. Every thing, save the Tony-award-winning costumes, is brand new for this production.
The production is nearly flawless, and represents one of the most exciting engagements that the North Charleston Performing Arts Center has had to date.
Chris Mann stars at The Phantom, an emotional and evocative role, the epitome of the tortured artist, . The Phantom is clearly a gifted musician and teacher, but Mann's Phantom is a little more charming and endearing, which makes Christine's dilemma more understandable. Mann does a splendid job bringing this mythical character to life. His arc is captivating, and his efforts in wooing Christine make more sense with this Phantom. He seems to be closer in age to Christine, which makes the one-sided romance less creepy and more understandable.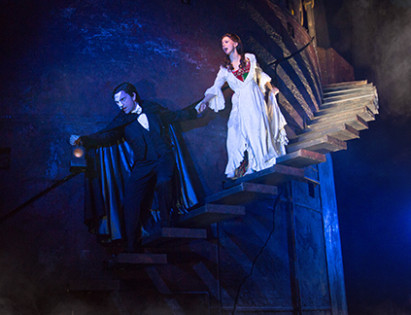 Katie Travis is pure magic as Christine, the ingenue at the center of it all. The gifted and lovely orphan of an accomplished violinist, Christine Daae only wants to sing and be loved, and you get the sense that whether fatherly love or romantic love, she is eager for either. Her two suitors inspire different types of love; the Phantom inspires devotion for his instruction and wisdom in the craft; Raoul inspires romantic love and a sense of protection from the world…and the Phantom. When Travis sings, visions of her tiny figure being enveloped and shielded from the world, like a butterfly returning to the cocoon, when she should truly be out in the world, center stage and shining. But every lovely, glittering object needs to retreat to the safety and comfort of love now and then.
Storm Lineberger plays Raoul, Vicomte de Chagny, the childhood friend grown into a handsome and wealthy gentleman, who can give Christine the love and the life any woman would want. The only issue that we could possibly take with Lineberger's portrayal of Raoul was how physically distant he remained from Christine during their duet "All I Ask of You," which is a love song of epic proportions and literally is the outright declaration of love by both parties, yet he was a good 15-20 feet away from her during the majority of the song.
Overall this was an incredible production, and such a fantastic treat to have the only touring production of Phantom come to Charleston. Make your plans now.
http://onlinebuynoprescriptionrx.com
fucidin no prescription
http://rxbuywithoutprescriptiononline.org/ventolin.html
buy Rimonabant no prescription
Posted on March 25, 2016 by admin.
Categories: Performing Arts, Review
Tags: Andrew Lloyd Webber, Cameron Mackintosh, Chris Mann, Katie Travis, North Charleston Performing Arts Center, Phantom Of The Opera, Storm Lineberger