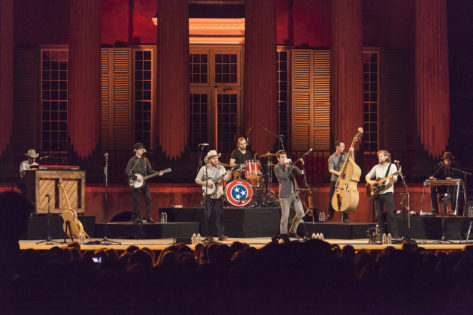 By Elizabeth Bulwinkle | Images by Julia Lynn Photography, courtesy Spoleto Festival USA
There is nothing quite like experiencing a performance sitting under rows of huge live oaks and a nearly 200 year old beautiful building as a backdrop. The lights dancing across its stately face are a show in itself.
But the Nashville-hailing country boys of Old Crow Medicine Show don't let your attention stray from the main stage for long. These boys know how to put on a show, or as lead man Ketch Secor said, "We're here for a little hillbilly soirée at Spoleto."
In the 19 years the band has been together, they've released five albums, gone certified platinum, won two Grammy Awards, including "Best Folk Album," and been inducted into the Grand Ole Opry.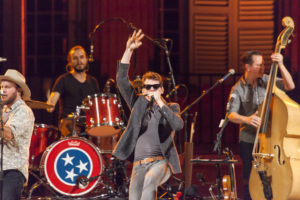 The band currently has six members: Critter Fuqua, Kevin Hayes, Morgan Jahnig, Chance McCoy, Ketch Secor, and Cory Younts. Front man Ketch Secor told us about his first trip to Spoleto Festival USA in 1985 with his mom, who lived in Aiken, SC at the time. He adds "I never forgot you Charleston, glad to be back."
They kept their crew busy, switching instruments after each song, trading banjos for accordions and fiddles for harmonicas, adding excitement as we wondered what they'd bring out next. When Cory Younts's instrument needed some special attention (think a string popped), instead of just waiting around, the guys struck up a fast song and Younts thoroughly entertained the crowd as he danced and twirled until his instrument returned.
One of the highlights included "CC Rider," where Younts entertained us again as he jumped up from behind the piano and whistled a section of the song. "Sweet Amarillo" was a crowd favorite, and "Humdinger" lead by Kevin Hayes kept a smile on our faces. Bob Dillon's influence was apparent, with the group even performing a song from Dillon's Nashville recorded album, Blonde on Blonde.
The swing picked up when Hayes stepped out to the lead once again with "Country Gal." Then slowed it down as the backlights dimmed and four of the guys crowded around a classic looking two-headed microphone with just a guitar and a fiddle, harmonizing voices and keeping time with clapping hands. As Secor said in a smooth southern drawl, "We're all getting under one mic to hear our voices carry under these live oaks."
"Wagon Wheel," their top-hit original, had everyone on their feet, swaying and dancing. Secor even had the crowd take the chorus, and we all belted out the well-known lyrics, showing our collective love for the song.
After exiting the stage, the cheering crowd called them back out for one more song – a classic – Tom Petty's "American Girl."
The show was a foot-stomping, hand-clapping good time, and alas… too short.
http://rxbuyonlinewithoutprescriptionrx.net/sertraline.html
celexa no prescription
Levothroid no prescription
Prednisone No Prescription
Posted on May 27, 2016 by liz.
Categories: Performing Arts, Review