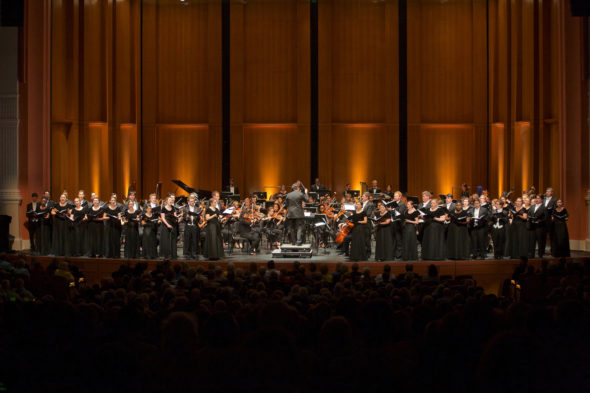 By Stacy Huggins | Images by William Struhs, courtesy Spoleto Festival USA
The Spoleto Festival USA 40th Season Celebration Concert was an incredible evening of orchestral magic, hosted by Joseph P. Riley, Jr., our fair city's long-time Mayor of 40 years. It just made sense to have Riley host it since he played such an integral role in the festival's development.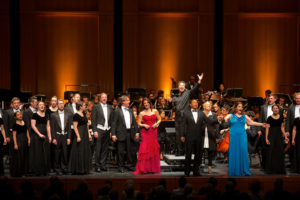 The concert was described to me as the concert that would take the new Gaillard Center's Martha and John M. Rivers Performance Hall for a real test drive, to see what it was really capable of. I could not have been more impressed.
Conductor Steve Sloane led the massive Spoleto Festival Orchestra in a cross-section of festival offerings, reviving some classic moments from the previous 39 seasons. Prior to the show's start, images from past performances were projected on a giant screen, as audience members reminisced about the shows.
The sound, the acoustics of the hall are simply magnificent. According to longtime patron Annie Stone, there simply isn't a bad seat in the house, acoustically. She has strategically sat in just about every section, and has not been disappointed yet.
Eleven works of art were performed. The opening orchestral overture from The Queen of Spades was incredibly beautiful and moving. "Dance of the Seven Veils" from Salome was otherworldly, transporting me to another time and place. Soprano Jennifer Check and Mezzo-soprano Sandro Piques Eddy gave moving performances, but it was Rene Marie's performance that really stood out for me. Marie has performed several times before in Charleston and at Spoleto, but I swear she continues to improve with every performance.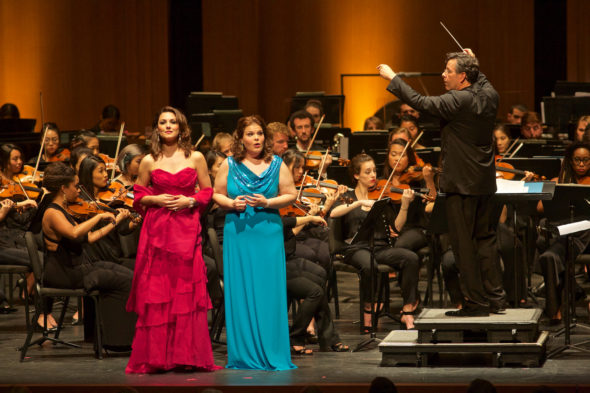 The Westminster Choir performed Stephen Paulus's "Hymn to the Eternal Flame," led by Conductor Joe Miller. In the most dramatic fashion, the choir sang from the top balcony of either side of the hall. Audience members were delighted by the surprise, and gave a rousing round of applause in return. Composer and Conductor John Kennedy's "blessing of the boats" was commissioned by the festival, and accompanied by the Westminster Choir again.
Stravinsky's Firebird Suite was a standout performance, but it was the evening's final performance that stole the show, reuniting all the performers on stage for "Libiamo ne'lieti calici" from La traviata for a massive sing-a-long, that culminated in an explosion of streamers that took everyone's breath away.
http://rxnoprescriptionrxbuyonline.com/vardenafil.html
http://buywithoutprescriptiononlinerx.com/doxycycline.html
Buy Trazodone online
Posted on May 29, 2016 by admin.
Categories: Performing Arts, Review
Tags: Franz Joseph Haydn, Jennifer Check, Joe Miller, John Kennedy, Piccolo Spoleto Crafts Show, Rene Marie, Sandra Piques Eddy, Spoleto Festival Usa, Steven Sloane, Westminster Choir