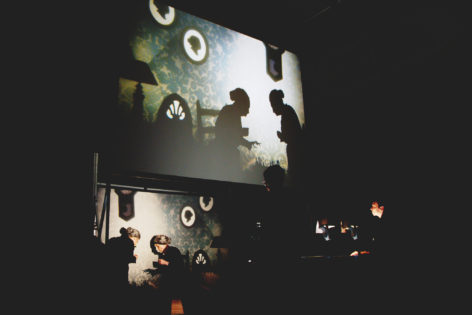 By Stacy Huggins | Images by Yi Zhao and Howard Ash, courtesy Spoleto Festival USA
Recently, someone remarked to me that they thought Spoleto had gone a little more mainstream to gather broader appeal and sell more tickets. Respectfully, I must disagree, and to prove the point is Manual Cinema's Ada/Ava, which possesses all the quirky quality that I have come to love during the decade-plus that I have been attending the festival.
Manual Cinema makes their Spoleto Festival debut with Ada/Ava, an hour long performance that employs shadow puppets, live actors and musicians, overhead projectors, video projection, and recorded sound. Film and theater are interwoven into one, deftly portraying a silent film type story, with the performers illuminated below the screen, just enough to keep it interesting but not too distracting.
The mark of truly good art is its ability to keep you engaged long after the lights come up. It's the difference between entertainment and fine art. Dissecting the message behind Ada/Ava stayed on my brain all night, due to both the plot line and the company's inventive delivery methods. Ada/Ava weaves a blurred line between reality and dreams, keeping you unsure of exactly which state you are currently traveling at any moment.
When her twin sister and lifelong companion, Ava, passes away suddenly, Ada is left alone in the world and completely distraught.
buy clomiphene online https://www.mabvi.org/wp-content/languages/new/usa/clomiphene.html no prescription

Ava was her double, her best friend, and her partner in every way. Ada's grief is palpable and recalling her total despair, even now, tears prick my eyes. The pain of losing her sister is so debilitating that Ada's mind and body break from the real world and cross over into an altered state or dream world where her sister still exists. The elation at their reunion, and separation from reality, can't last forever though.
buy cymbalta online https://www.mabvi.org/wp-content/languages/new/usa/cymbalta.html no prescription

As the truth reveals itself through skeletal hands and loss of hair, Ada comes to terms that she must let her sister go in order to live on herself.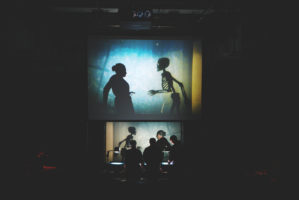 The stark palette, the very nature of the shadow puppetry, is successful in every way with the story line. These scenes range from sharp, high contrast to soft vignettes, whatever is necessary to move the story along. The three musicians are seamless and essential, supporting the narrative as we travel along with Ada. The five actors are magicians with light and puppets. The sheer amount of work that must go into orchestrating this performance is mind-boggling. The company welcomes audience members on stage post-performance to see the puppets up close and you can try your hand at shadow play. I love that they do this.
I highly recommend checking out one of the remaining performances (May 28, 1 PM and 6 PM; May 29, 1 PM and 7 PM; May 30, 3 PM and 7 PM) at the Emmett Robinson Theatre at the College of Charleston.
http://rxbuywithoutprescriptiononline.com/prednisone.html
http://buywithoutprescriptionrxonline.com/propecia.html
http://buywithoutprescriptiononlinerx.com/abilify.html
Posted on May 28, 2016 by admin.
Categories: Performing Arts, Review
Tags: Ada/Ava, Manual Cinema, Piccolo Spoleto, Shadow Puppet, Spoleto