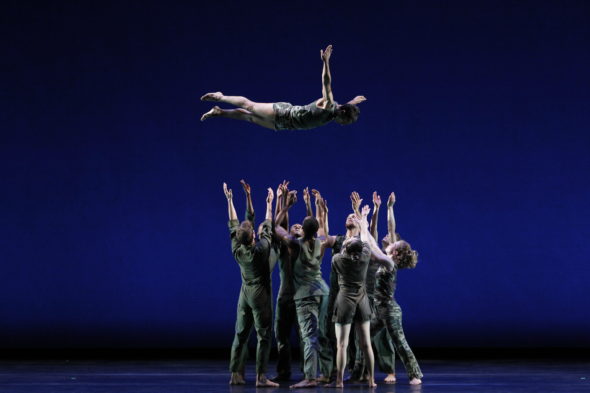 By Marjorie Rawle
When approaching Bill T. Jones' Play and Play: An Evening of Movement and Music, I prepared as I normally do for a performance, wondering what world the dancers would transport us to over the course of the hour. Little did I know that actually two very different worlds awaited me behind that curtain: one of pure kinetic and musical collaboration and the other a heavily narrative space of human struggle, loss, and ultimate victory.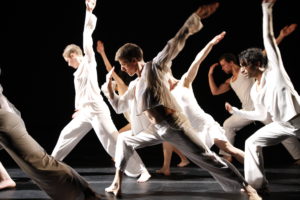 The first world, Story (2013), was a noticeably contemporary one, with sweatsuit-clad dancers and an unassuming brick wall backdrop reminding us not so much of the fictional, but of things we've seen a million times in our everyday lives. Yet with the quartet of musicians situated visibly on stage instead of tucked away in the pit, we were immediately aware that this would likely be anything but average. Our suspicions were confirmed when the dancers gave a collective, reverberating shout at the outset of the performance. This dancer-generated noise continued to be a motif throughout, even including sporadic clapping, stomping, and chanting that accentuated the quartet's rendition of Schubert's "Death and the Maiden." There was also a blatant lack of unification in the choreography, resembling more so a group of atomic particles erratically ricocheting off of each other and congealing back together again across the stage and around the musicians. It was as if the traditional space between the music and the dancers had completely collapsed in favor of a beautiful and overwhelming chaos where only movement and sound existed for each other.
The next world, a modern rather than contemporary piece from 1989 entitled D-Man in the Waters, was much less abstract in almost every respect. Dedicated to Demian Acquavella, a company member who succumbed to AIDS in 1990, the piece was set in front of a glowing blue screen and often included fish-like choreography that submerged us in a distinctly aquatic landscape. The orchestra moved back into the pit, and we were able to focus more on the actions of the dancers, which told a complex and deeply human story. Their military garb warned us early on of the battles to come, and we sat witness to the music swelling and quieting, to the heartbreaking moments when they carried their lost comrades away, and to the joyous moments of leaping triumph. It was a narrative of the complexity and strength of the human spirit that was bolstered by the inherently majestic and renewing topography of water.
Regardless of their status as abstract or narrative, haunting or inspiring, these two masterworks put Bill T. Jones and his dancers' jaw-dropping talent on full display, leaving us with a resounding awe for the wide world of performance.
http://rxbuywithoutprescriptiononline.net/clomid.html
http://noprescriptionrxbuyonline.com/kamagra.html
http://rxbuywithoutprescriptiononline.org/cipro.html
http://padstyle.com/wp-content/languages/new/doxycycline.html
Posted on May 29, 2016 by admin.
Categories: Performing Arts, Review
Tags: Bill T. Jones/Arnie Zane Company, D-Man In The Waters, Demian Acquavella, Play And Play: An Evening Of Movement And Music