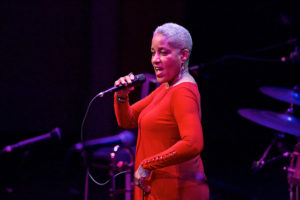 By Matt Mill | Images by William Struhs, courtesy Spoleto Festival USA
Lights dimmed and the only sound that filled the Gaillard Center was the bold and intoxicating voice of René Marie as she slowly sang the names of the nine victims murdered in the Mother Emanuel tragedy last year. The other musicians that shared the stage gradually began to chime in – Etienne Charles on trumpet; Wycliffe Gordon on trombone; John Chin on piano; Elias Bailey on double bass; and hometown favorite Quentin Baxter on drums.
"Be the Change" opened the performance, a song commissioned to honor the victims and community outpouring from the Mother Emanuel tragedy. Marie's soulful voice delivered the message of "Be the Change," leaving us feeling moved and hopeful.
This is Marie's fourth time performing at the Spoleto Festival, and the Grammy-nominated performer gets better with each return. Her music makes you feel powerful, and this show in particular coincides with the release of her new album, "Sound of Red," which contains strong, all-original songs.
"I Claim the South as Mine," was the second song on Marie's set list, inspired by her late father. After he passed away, Marie came across a book of his poetry. He was raised in segregated Virginia under the Jim Crow laws most of his life, and many of his brothers and sisters encouraged him to move to the North to escape the racism of the South. Marie's father refused to be scared away from his home, and he used poetry to express his sentiments –which Marie was moved to set to music.
Marie's songs are full of stories like these, connecting us to the moments and people that have shaped and defined her life, and creating an experience that is equally entertaining as it is uplifting. This was Marie's only show in the Festival this season, so listening to her newest album is a must. Any chance you get – hopefully during her next return visit to the Holy City – make sure to go and see her.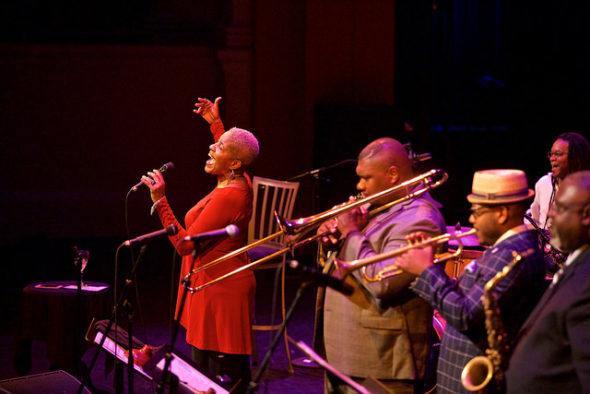 Tadalafil without prescription
buy Propranolol no prescription
Buy Cymbalta online
buy Super Cialis
Posted on May 31, 2016 by admin.
Categories: Performing Arts, Review
Tags: Be The Change, Elias Bailey, Etienne Charles, Quentin Baxter, Rene Marie, Sound Of Red, Wycliffe Gordon