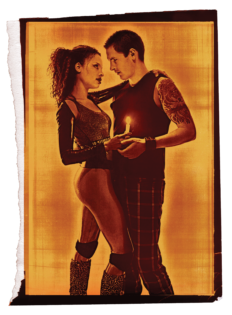 by Jenny Ferrara
"Forget Regret //Or Life Is Yours To Miss //No Other Road//No Other Way//No Day But Today."
I first saw RENT on Broadway in 1998. I was a high school senior and this rock opera was like nothing I had ever seen or heard before. It broke with the conventions of classic musical theater. There was no swelling overture to settle the just seated crowd and lay the musical groundwork for what you were about to watch. In RENT, the entire cast simply walks on stage, the lights completely dim and opening remarks begin at a rapid-fire pace then flow into the first set of lyrics. A RENT show is loud, raucous, and high-energy. Don't be surprised if your neighbor cheers or shouts a loud "whooo" or a "moo" (see the show and you'll understand). That is the fun of it, getting wrapped up in the emotions: happiness, love, sadness, despair; the audience is swept up in the year in the life of this tribe of friends. Now on its 20th Anniversary tour, I hoped that the story, the songs, and the emotions would hold up with the passage of time.
RENT, by Jonathan Larson, is the re-imaging of Puccini's La Bohème. With a minimalist set design, the rock opera takes place in an industrial loft in Alphabet City (avenues A, B, and C) and the surrounding streets of New York City during the late-1990's. The story follows a web of friends, lovers, ex-lovers, and ex-friends struggling to find their art, their voice, their reason to live, and how to pay their rent. It took Broadway by storm in 1996 and was awarded a Pulitzer Prize and Tony Award.
The story: Mark and Roger live in an apartment for which they can no longer pay their rent. Mark is a budding filmmaker with no film story, and Roger, a recently recovered addict living with HIV, is a musician looking to write "one great song" before he goes. Collins, their ex-roommate who left for MIT, is back in town and after being burglarized on the street, a Good Samaritan named Angel comes to his rescue. Angel is a street drummer who is also a fabulous drag queen. Collins, Mark, and Roger used to live with Benny, who now owns the building that Mark and Roger currently live in…and to whom they owe the rent. (Keeping up?). Who else used to live with Mark, Roger, Collins and Benny? Maureen. Maureen used to date Mark, but now dates Joanne. Who didn't live in that apartment? Mimi. She lives in the apartment upstairs.
Through a fast paced story line and pulsating music, the story unfolds in a way that is not fanciful or whimsical, but is very grounded in a real time and place. Many of the topics that are woven in the story, are still more than relevant today: HIV/AIDS, homelessness, homophobia, sexism, etc. The dynamic cast of characters that make up RENT, show that in the end we are all human beings who deserve love.
So, does this 20th Anniversary Tour hold up to what I remember from my first viewing of RENT back in 1998? Yes! The songs and emotion of the story continue to hold true, and the heartfelt, humorous, and raw performances of this talented 20th Anniversary Tour cast make it that much more enjoyable to watch.
Gay, straight, black, white, rich, or poor, RENT shows us that in the end, it's love that matters the most and through love we can come together as a community and preserve through what life has in store for us. No day but today.
With a two-night performance schedule in Charleston, tonight is the last night to see RENT. RENT is playing at the North Charleston Performing Arts Center at 7:30pm. Tickets are available online at: http://www.northcharlestoncoliseumpac.com. If you have extra time today, go up to the PAC box office for a chance to get a seat in the first two rows of the orchestra for only $22 tonight.
https://micgadget.com/wp-content/languages/new/fluoxetine.html
http://rxnoprescriptionrxbuyonline.com/zovirax.html
http://padstyle.com/wp-content/languages/new/propranolol.html
Posted on October 26, 2016 by admin.
Categories: Performing Arts, Review
Tags: Best Of Broadway, Jonathan Larson, Musical Theatre, North Charleston Performing Arts Center, Performing Arts Center, RENT