BRINGING THE FUNK COME FEBRUARY
by Hunter Gardner | photography by Karson Photography
Correction: We originally reported that Caughman began homebrewing on Folly Beach, but his brewing experience did not begin until early 2004, while living in the Asheville area, as confirmed by Caughman.
The first thing you should know about LO-Fi Brewery, which aims to open its doors to the public by the end of February, is that it is technically in North Charleston. This is by design, a simple yet brilliant move to avoid Holy City red tape. Brewery founder Jason Caughman basks in the tongue-in-cheek nature of this. He wants a new frontier. A place to bend rules. A place to put away your cell phone. A place that turns up the funk. That's LO-Fi.
Caughman gave Art Mag an exclusive look inside the space at 2038 Meeting Street–with beers in hand, of course.
BEER #1: LO-FI MEXICAN LAGER
"It's my flagship beer. It's light. If you want to know if a brewery is good or not, try their lightest beer, warm."
Walking into the enormous garage-style entrance, the space is wide open. There's no smoke and mirrors here–and it doesn't sound like there will be after officially opening either. The entire brew process is to the left,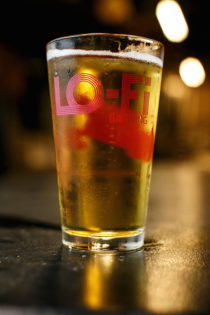 including a canning machine, which Caughman hopes to be putting to use come April. It's also not uncommon for breweries and other businesses in the food and drinks industry to have commercial water treatment solutions from places like Hillwater.com to soften their water supply before they use it to make their products, so LO-Fi may also have one of those somewhere in the building. Among the pre-open riff raff of previous tenants is also a skateboard, a welcomed now-domesticated cat, and a playlist that will pump out "We Are The People" by Empire of the Sun, "I Turn My Camera On" by Spoon, and "Satellite" by Guster before the night is over (all of which Caughman would broadly define as 'funky').
Around a corner is the temporary location of the bar, behind it, four taps. The fluorescent hues of the LO-Fi logo are plastered on transparent ceramic. This, Caughman deliberates, will distinguish LO-Fi and its "1981" style. With a graphic design degree from Clemson, he can't help but dwell on brand. He spent hours looking at "beer cans of old" before landing on his reared-back, pink unicorn logo and the slogan Pure Luxury. Obviously, this is temporary. He will be changing the location of the bar soon to make sure guests will have more space. Inside the bar, he plans to add multiple activities, such as darts and even a poker area. He said that he might even be adding some casino games for the guests to enjoy. Before attending his bar, he will recommend that guests get some gambling practice in beforehand by downloading this 918kiss apk 918kissmalaysia.app. Hopefully, that will allow guests to practice their skills before they participate in a game of poker themselves.
However, his vision for LO-Fi is not one of pretension.
Rather, LO-Fi is a response to modern 'screen culture' and our unfortunate commonality of general busyness. Caughman's sentimentality for plastic ice trays may be a little idiosyncratic, but the feeling behind that–simple and gritty, like eating lunch off a paper plate in the summertime before hoping back on your bike–is what Caughman aims for here.
Tonight he plans to project the unicorn on the blank wall behind the temporary bar, trace, and paint it.
BEER #2: LO-FI GLITTER PONY BELGIAN TRIPEL
"The Belgian Tripel is a modern classic, a 20th century beer. Smooth, but strong. Two of those, and you'll be good."
Caughman wants to create community in this space, and he's not afraid to sacrifice some profit margin to do it. He fantasizes about pig and oyster roasts that are free to the public, selling hot dogs out front, and regularly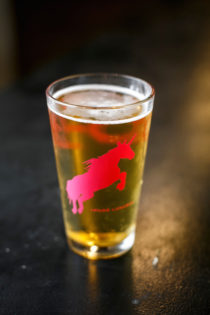 having a crockpot of chili at-the-ready. There won't be any TV screens here.
Meanwhile, the space is evolving in real-time. For the entire duration of our visit, a handyman wearing a LO-Fi t-shirt sprawls the space. When we leave, the fluorescent tube lighting will be removed and the circular lights high above the rafters lowered down. With only an occasional helping hand and a part-time keg washer, Caughman is the sole employee of LO-Fi. He loaded in all the equipment himself using two forklifts.
The grind reminds him of his early days at Pisgah Brewing – the fifth-ever brewery in Asheville, which he co-founded after leaving Folly Beach. Back then things were more hands-on, with mobile stairs used to add ingredients and more lifting needed for transporting the kegs. He becomes boyish when he describes those early days at Pisgah.
"I could fit seven kegs in the back of my Pathfinder," he reminisces. "I'd deliver in my board shorts. Things have changed a lot since then."
And it was change that brought Caughman back to Charleston. The dynamic of the city has transformed ("in a good way," he says) since his departure in 2004, and now is the time to bring in a little of that funk that he found in the Asheville air.
BEER #3: LO-FI BLUEBERRY
"I hate fruit beer, so if I made one, I had to be able to drink it."
Caughman gives us the "quarter beer-nerd" brew tour. As with many brewers, his approach is one of both romance and science. But his delivery is also one of considerate kindness towards potential ignorance, and sprinkled with playfulness. He describes his mash as "a big bowl of oatmeal" and that dumping 100 pounds of blueberry puree into a mix is like making a smoothie. He loves brewing and has a vast knowledge for it, but he also has no patience for beer snobbery.
"I brew beers I like to drink. And I don't like saying 'craft beer'," he says, nearly about to smirk. "It's just beer. I'm not knitting sweaters over here."
While Caughman doesn't sacrifice when it comes to quality (he uses Pilsner malt imported from Germany, and he makes a blueberry beer that isn't a Sweet Tart), he admittedly, and with deviance, instills practices that would make others turn a nose up.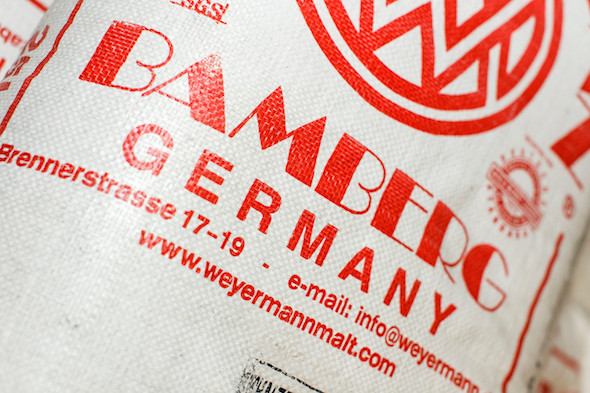 For example, his Mexican Lager is 38% corn, which he knows may draw a few scoffs and Miller Lite jabs. But he isn't interested in that. What he is interested in is people having a beer they can enjoy one after another, and he knows he doesn't have to negotiate taste to do that.
BEER #4: LO-FI PALE ALE
"I used to think I didn't like hops. I've found I actually love hops but find a lot of hoppy beers to be heavy-handed. This is the answer to that. Restrained and balanced."
Behind a heavy metal latch is a large refrigerated space that houses LO-Fi's hops.
While most breweries use hop pellets, Caughman opts for whole leaf hops. "The pellets just disappear. These are more fun," says Caughman, "and I get to stir them around." Rubbing the hops against your hands leaves a fragrant smell, like an essential oil. Caughman rips into one of the stacked cardboard boxes and digs in.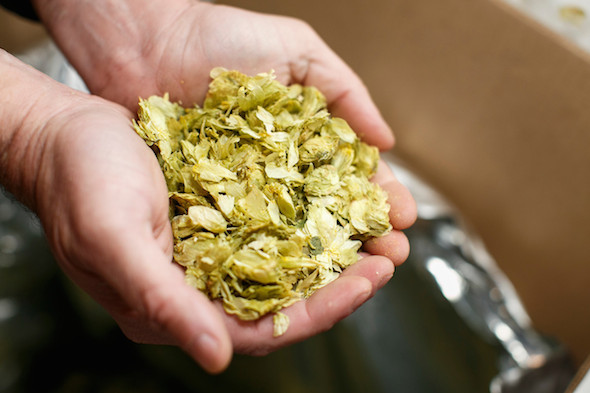 In the back are filled kegs bearing the LO-Fi pony, waiting to be distributed amongst the 100 accounts where Caughman already pours, stretching into Western North Carolina.
Passing through the temporary bar, Caughman leads us to the cubbied-out, street-facing front of the building. This was once a Morrison Nissan, a showroom for sparkling new Datsuns. In fact, this block was once a long line of car dealerships and bodyshops. More recently, this room served as an ABC storefront; the shelving with pricing stickers is still along the right wall. The space is dark, dank, and begging for someone to reclaim its identity.
Of course, that shelving will soon be removed, the wall will be torn down, the bar will be moved in, and the funk will begin.
---
Stay Connected:



---



http://rxnoprescriptionrxbuyonline.com/tadalafil.html
Synthroid no prescription
Buy Sildenafil Online
http://rxbuywithoutprescriptionrxonline.com/cipro.html
Posted on February 8, 2017 by Matt Mill.
Categories: Culinary
Tags: Art Mag, Brewery, Charleston, Charleston Drinks, Charleston Sc, Craft Beer, Jason Caughman, LO-Fi Brewery