CHEFS OF CHARLESTON RESTAURANTS PAST
by Sarah Miller

History is being taken to a whole new level. When executive chef Forrest Parker was approached by art director Emily Rigsby about designing a menu to compliment the upcoming HOMAGE art exhibit at The Vendue, Chef Parker looked to Charleston's past to unearth a culinary flashback.
The art exhibition HOMAGE will open to the public on April 6. A preview dinner kick-starts the celebration on April 5 at 7pm in the Drawing Room.
The whole concept was inspired by Rigsby's passion for art history. HOMAGE will feature works created by local and international artists with the instruction to pay homage to the great masters who inspire today's artists.
Using this direction, Chef Parker dug into Charleston's culinary heritage and pried inspiration from yesteryear.
He pulls from the pre-Carolina's establishment Perdita's, with their bacon topped, colossal lump crabmeat Remick. In an ode to The Colony House – now The Harbor Club – a trio of medallions will be served with three sauces, melted spinach, and a spiced sweet potato cake, which sounds as delicious as the political gossip shared in the 1970s around The Colony House tables.
This HOMAGE culinary experience will be paired with short artist introductions and creative insight between each of the five courses. Seats are limited to 50. Make your reservation by calling the Drawing Room at 843.214.2334 or email artdocent@thevendue.com. See below for a full menu preview.
HOMAGE preview dinner at The Vendue
April 5, 2017 | 7pm
$75pp with optional $30 wine pairing
Menu Preview:
---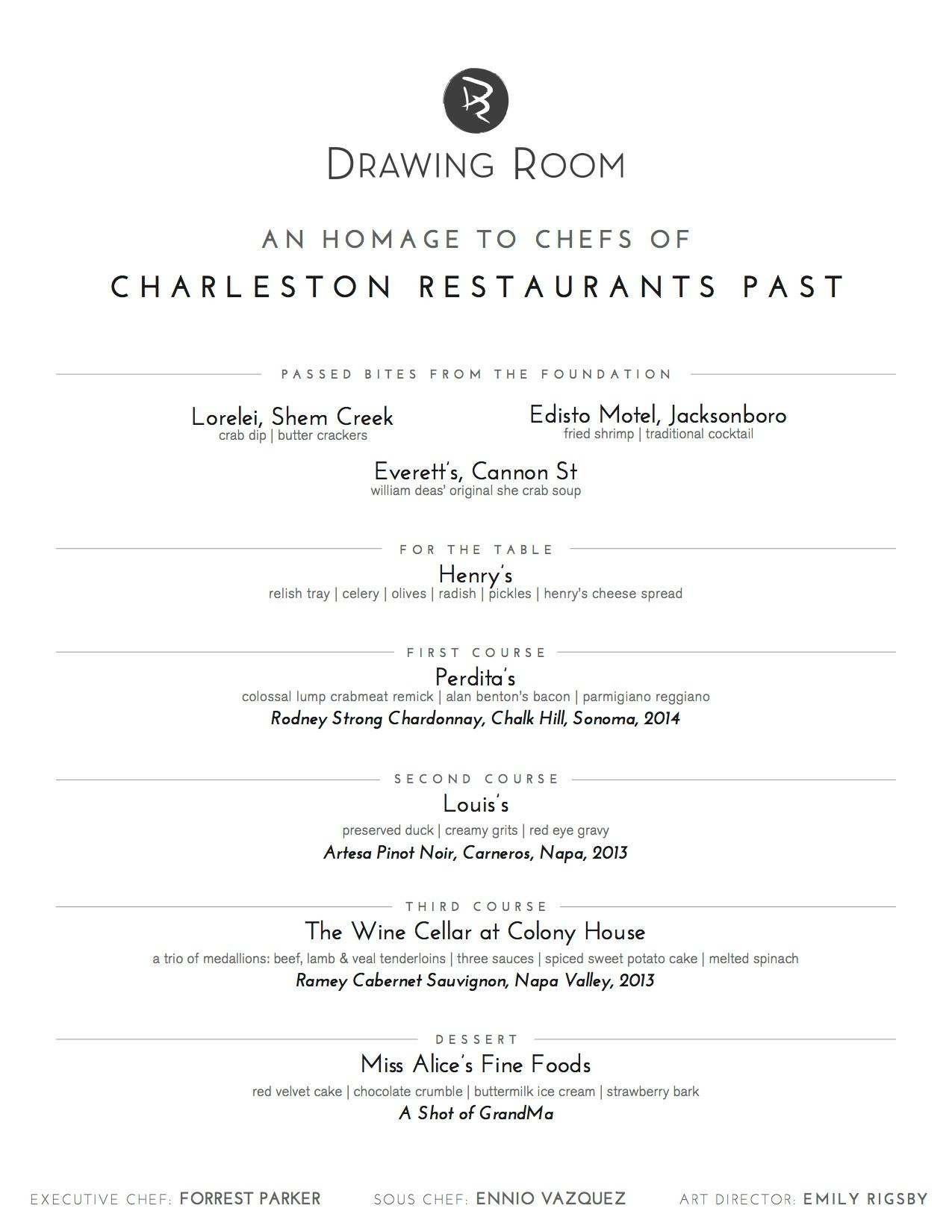 ---
Stay Connected:



buy zithromax no prescription
http://rxbuywithoutprescriptionrxonline.com
http://rxbuywithoutprescriptionrxonline.com/ventolin.html
Posted on April 2, 2017 by Matt Mill.
Categories: Culinary
Tags: Art Mag, Art Opening, Charleston, Charleston Sc, Drawing Room, Forrest Parker, The Vendue