RUNWAY SHOW RECAP – WEDNESDAY, MARCH 14
by Emily Reyna
PATRESEA PEPPERS
There's a unique mix of aesthetics that converge at Charleston Fashion Week, and I appreciate that you can't anticipate what the emerging designers will show.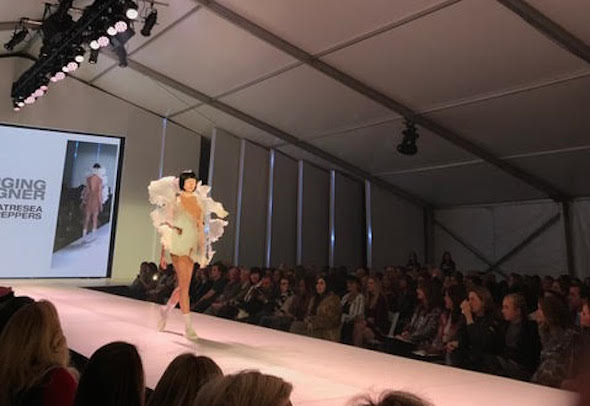 This was true with Atlanta native Patresea Peppers. Her first look, full of tulle, walked down the runway and all I could think about is what she could possibly show next. Her designs prompted thoughts about evolution, time, and growth, both visually and metaphorically.
"This collection explores the idea between glaciers and the growth of humans," explains Peppers. "Their growth and continued movement over time," she adds.
Glaciers take thousands of years to reach their peak. Peppers sees this collection as a statement that she hasn't peaked yet, and there's still years in the making for her.
Within this theme, she utilizes existing materials to form new textures in a way we would never see them: on clothes. The most noticeable element is her fearlessness to break outside the box of traditional silhouettes and patterns. Every design she sent down the runway had an intricate 3D installation on each model that demanded to be noticed with how much visual weight it had. Some took on a linear form with opaque whiteness while others took on a freeform shape, translucent and glowing like ice.
Her garments seem simple, but—like Peppers—the longer you look the more complexity is there to see.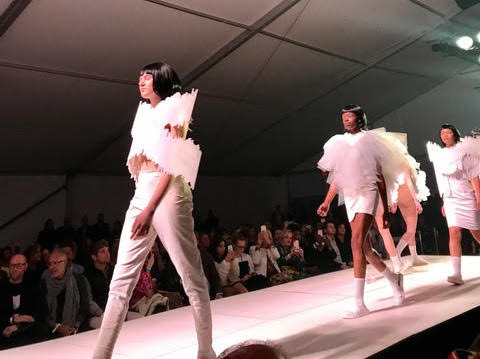 ---

PATRICK TAI & TERRENCE HENDERSON
Design-duo Patrick Tai and Terrence Henderson set the bar high with challenging traditional fashion norms through their use of technology.
The pair, from Charlotte, NC, come from a background of fashion. early on in life while continuing that with experience as a technical designer/product developer at HanesBrands Inc., and participating in Fashion tech week in New York.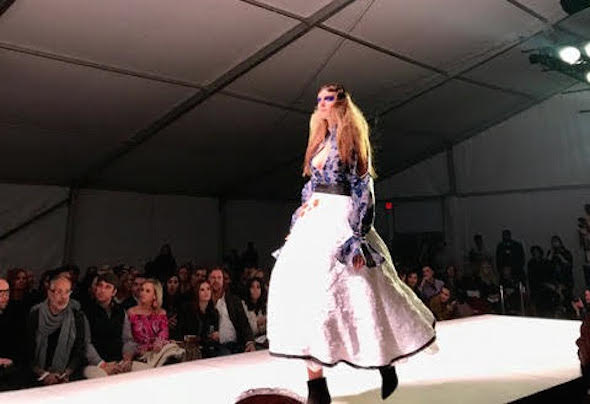 Tai was first interested in fashion at the early age of seven as he learned the ropes from his grandmother which carries on into his career today.
"We want to put on a show about the art and power of fashion," explains Tai and Henderson. "We want to merge the idea of couturier style fashion techniques, rich fabrics with sleek silhouettes, and technology such as the 3Doodler."
Tai and Terrence do just that with their androgynous inspiration juxtaposed by a distinct femininity.
They exemplify this goal with their androgynous influence juxtaposed with femininity. Each design was geometric in construction while adding soft color and fabric that provided balance to the garment. Their design lies in the hard lines and soft details.
Closing out the show, we got the best taste for the intricacy with which they design out of the box and to the left. Their final look featured a 3D construction, which I perceive was fashioned out of burlap, that still felt formal and couture in presentation while taking on a feminine shape.
Though androgynous in inspiration there was no doubt their designs portrayed women's eveningwear in a new light.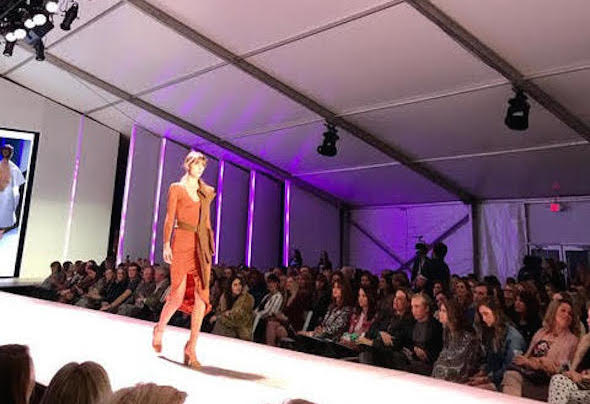 ---

EMILIE SHROEDER
The reoccurring theme of the night seemed to be that fashion goes much deeper than the fabric or the model walking down the runway.
This was immediately apparent with emerging designer Emilie Shroeder. Brooklynite and intern at Sally LaPointe, Schroeder has been interested in fashion since the age of twelve when she would beg her mother to buy her copies of Vogue.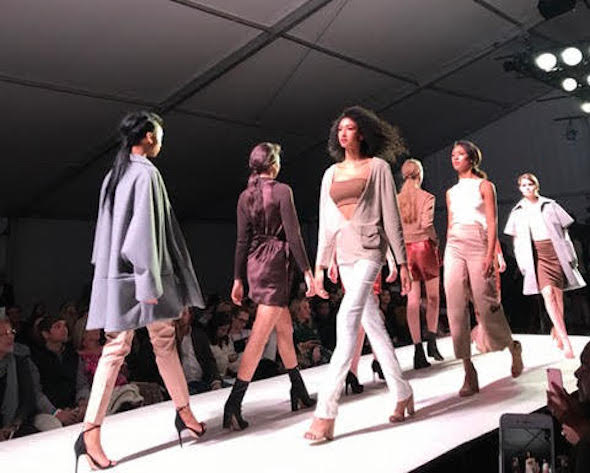 Though she is inspired by historical influences, Schroeder's designs feel like the zeitgeist of today. Oftentimes when a new trend, design, or idea is introduced it takes time to process how that will work out in your own sartorial vocabulary; yet these pieces felt like just the right temperature to match the mood of today. Just like the name states, ready-to-wear was exactly how I felt about these garments.
One deliberate choice Schroeder made was keeping her color palette limited to neutrals, which represented every range of skin tone, and a penchant hue of orange. This choice of a skin toned themed palette made her think about nakedness which lends to a vulnerability of self. The exact shade of orange she chose represented joy, which Schroeder says, really is a form of freedom.
Think of her collection as dressing yourself in vulnerability, joy, and freedom: "I hope my collections inspires people to be vulnerable, and show how fabulous being YOU really is," says Schroeder.
---

TIERRA MACON
Tierra Macon of Los Angeles, CA closed out the night. Her women's ready-to-wear collection was inspired by classic and feminine silhouettes that she made distinctly her own.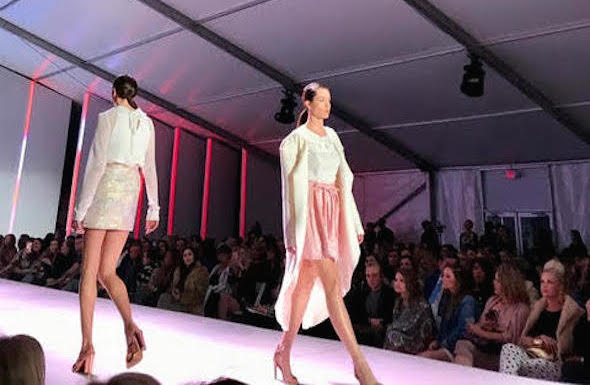 "Inspiration can be found anywhere and in everything!" says Macon. "This collection was inspired by a particular fabric and the luxurious, feminine feeling that it gave me that I hope women will feel while wearing my pieces."
Macon's designs were cohesive with a consistent color palette, fabric choice, and shape of her separates. She was successful in merging her classic inspiration with modern influence. This was exemplified through her raw edges and hems in her knitwear and use of unexpected pleating.
A fit made for Charleston, Macon's collection felt right at home in the Holy City.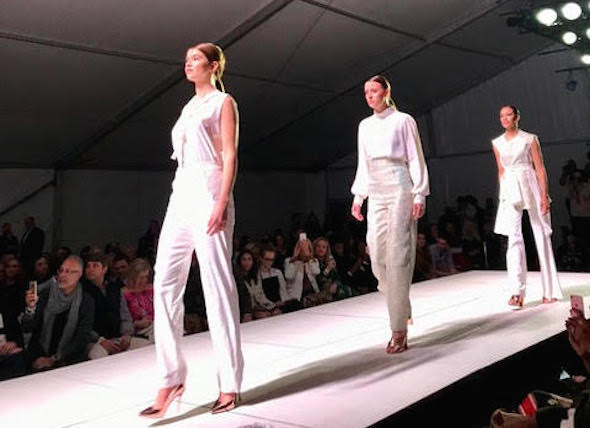 ---
CHARLESTON FASHION WEEK
March 13—17, 2018
Opening Night Runway Show Review
Stay Connected to the Arts:



Buy Levitra plus
buy Levothroid no prescription
Buy Zovirax
buy Amitriptyline online
Posted on March 18, 2018 by Matt Mill.
Categories: Wearable Art
Tags: Art Mag, Charleston, Charleston Arts, Charleston Fashion Week, Charleston Sc, Emilie Shroeder, Patresea Peppers, Patrick Tai, Terrence Henderson, Tierra Macon, Wearable Arts