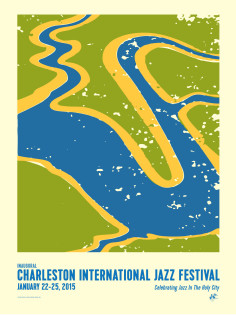 There's something to be said for the sheer determination of a team of like minded individuals.
Many years ago, Jazz Artists of Charleston was formed. The catalytic individuals behind the JAC set the stage for the creation of Charleston Jazz Orchestra, our resident big band. Now in their seventh season, the JAC produces six full-scale CJO shows a year, with two sets for each (except Holiday Swing, with one set of holiday favorites and selected hits from the season). In the fall of 2014, Executive Director Leah Suarez hinted that we had something big to look forward to this year…and did they ever deliver.
This past week/weekend marked the Inaugural Charleston International Jazz Festival. Opening night, we were treated to a 'Friends of the JAC' reception, followed by the Downbeat, and then closed out our night at the SC Hit Parade, a concert that revisited one of the first performances from the nascent years that heralded what has come to fruition.
Maestro Charlton Singleton and the chamber orchestra led us through a history lesson set to music, featuring songs by the most notable Charlestonians and South Carolinians to make Jazz their specialty.
Charleston has, as Jack McCray pointed out in Charleston Jazz, just about as much claim to being the cradle of Jazz music. The set list celebrated the long line of SC-born and bred contributors to the repertoire of Jazz. Dizzy Gillespie, one of the greatest trumpeters and bandleaders ever: St. Julian Dash, co-composer of "Tuxedo Junction" and 20+ year member of the Erskine Hawkins Orchestra; Freddie Green, the greatest rhythm guitarist in Jazz and long-standing member of the Count Basie Orchestra; Green's tune "Corner Pocket" was turned into vocals "Until I Met You," and made popular again by Sarah Vaughn.
The band also played some modern day tunes written by modern day musicians, like Charlton Singleton's "Four Four" and Tyler Ross's "We Got Your Back, Jack," a tribute to the late, great Jack McCray, founder, advocate, writer, and voice for the history and legacy of Jazz in Charleston.
It was a beautiful night of even more beautiful music. The musician-members of the JAC are nothing short of inspired and seemingly tireless in their efforts as artists–they play all over town, they teach, compose, arrange, and mentor.
In a heartbreaking moment, as we watched the talented musicians who frequently merge and reform, we realized that we would never get the pleasure of seeing Tommy Gill at the piano again. Gill passed suddenly in 2014. He was a gifted musician, a kind spirit, a teacher and educator to so many.
The inaugural Charleston International Jazz Festival featured a solid block of programming, with a variety of price points–kudos to the presenters for making the programs as inclusive as possible, with several free events, like film screenings and the Sunday family-friendly concert at Charleston Music Hall. Fred Wesley, one of our most favorite trombone players ever, joined the fun(k) on Saturday. The late night jams, especially the revival of long-time favorite Gradual Lean, must have made for long days, but surely worth it.
Posted on January 26, 2015 by admin.
Categories: Performing Arts, Review
Tags: Charleston International Jazz Festival, Charleston Jazz Orchestra, Charleston Music Hall, Charlton Singleton, Dizzy Gillespie, Fred Wesley, Freddie Green, Gradual Lean, Jack Mccray, Jazz, Jazz Artists Of Charleston, Julian Dash, Leah Suarez, Sc Hit Parade, St Julian Dash, Tommy Gill, Tyler Ross