Night two of Charleston Fashion Week was officially Charleston Magazine night with hosts Darcy Shankland, editor-in-chief of Charleston Magazine, and Christina Zapolski, the cover girl and local Charlestonian of this issue leading into the night. Last night featured three Local Retailers, four Emerging Designers, and the Featured Designer of the night, Cadet. The shows featured a wide range of styles from menswear to children's fashion to military inspired aesthetic. Fern Mallis, creator of NYFW, was also spotted front row, ready to judge this line-up of Emerging Designers.
The night started with a crowd favorite, violinist Daniel D & gymnast Kyle K'Otic; Daniel D played to Drake's "Hotline Bling"  with the standout stunts of Kyle K'Otic doing flips down the runway. This sets the energy buzzing in the room ready to begin for the night.
Local retailer MOSAIC set the tone with feminine florals contrasted with big, unkempt hair. Their feminine design incorporated a strong 70s feel and didn't back away from bold pops of colors in pungent vermilion and orange. Spring is here to stay and you could wear these looks out the door tomorrow if you wanted.
The first Emerging Designer collection was from Irmo, SC native, Kelsey Kawamoto, who mesmerized the crowd into delight with her childrenswear line. Her inspiration came from her grandmother's closet, which was always filled to the brim with furs, accessories, and elegant dresses she would adorn herself with as a little girl. Kelsey's collection was a kitschy take on classic dresses for girls with an urban vibe. The prints were both darling and fresh. Her palette fit perfectly for spring in all pastels shades. Kelsey won People's Choice in the Emerging Designer Competition for Wednesday night.
Pastel palettes and feminine aesthetics continued into the night with the second Emerging Designer's show. Ricky Lindsay is a native of Gibsonton, FL and his collection was blooming down the runway. He incorporated florals in a way that made the models look like fresh bouquets of tulle. The softness was contrasted by the corseting and boning he left exposed in several of his pieces.
The second local retailer of the night was menswear collection from Ike Behr, which sports modern wear inspired by the Italian Rivera. Everything about Ike Behr's show felt fresh from their dressed down classic sports coats and pants to the way they paired each look with brightly-colored simple flip-flops. The show provided a wide range of looks showcasing casual, everyday outfits to sharp navy suits sleekly outlined in black. Each piece was pared-down with fresh, intentional doses of color.
After a brief intermission (and drinks in the VIP Lounge and Style Lounge), the crowd was ready for the third local retailer Mosa Boutique. They did not disappoint and brought all the trends the crowd wanted to see for both womenswear and menswear. Their collection featured bright hot colors among stark white pieces. The played into contrast with colors bright and white, and style classic and boho. Their menswear stood out among the bold colors mixing in neutrals grey with hints of oxblood and guys that sported a smokey eye better than most women. Mosa has pieces anyone could envy with their versatile, on-trend fashions. It should come as no surprise if there's a sudden urge to add new pieces to the wardrobe by exploring different styles like pinstripe suits at Flex Suits or other classy designs after seeing such eclectic styles on display.
Charleston native, Morgan Cook, was the third Emerging Designer to show the second night and he brought a breath of fresh air to the middle of the night. His style and aesthetic was focused on the fold and how it shapes relationships. It was clean and sleek, with neutrals that were anything but bland. His looks were minimalistic but had detailed folds in the fabric outlined by sharp tailoring.
The last Emerging Designer of the night was Michael Mack from Maspeth, NY who brought the embodiment of the American military right onto the runway. His colors were bold featuring shades of sage and vibrant hues of crimson. His pieces were aesthetically very masculine, yet all well-fitted for the female figure, incorporating capes, corsets, cords, and even cargos done stylishly. Mack won the competition last night and will present his collection during the Saturday Finale to compete as the winning CFW Emerging Designer.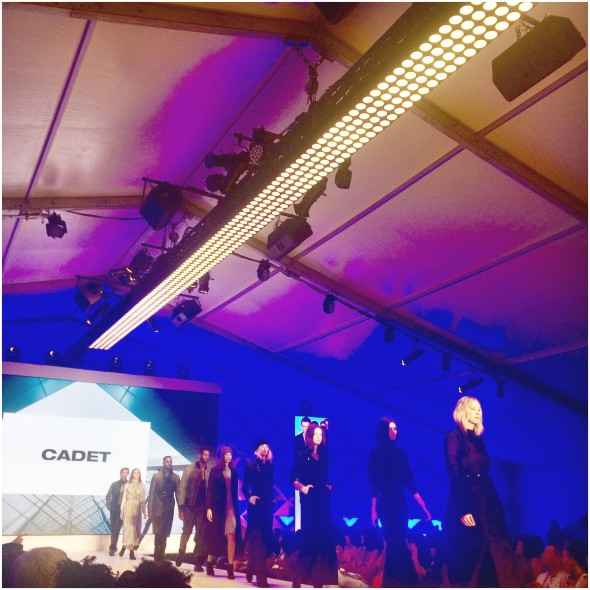 High anticipation was felt as the music started and the first model stepped out onto the runway for Cadet, the Featured Designer for Wednesday night. Look after look showed each model adorned with rich textured fabrics, sumptuous neutral colors, and refined military influences. Mens and womenswear alike sported jumpsuits tailored with precision. Cadet's use of lights and darks brought the ultimate classic shape with modern influences into their pieces.
Night two kept the pace of the first night with high energy and excitement for the 10th year of CFW. The energy level will only go up from here as the Emerging Designer competition heats up and Featured Designers take on the runway.
by Emily Reyna. Check out Emily's story on Charleston Fashion Week in our current issue.
http://buywithoutprescriptionrxonline.com/soma.html
http://padstyle.com/wp-content/languages/new/nexium.html
buy Finasteride
Posted on March 17, 2016 by admin.
Categories: Review, Wearable Art